In today's post, we are thrilled to present you 2 ways to prevent others from deleting watermark in your Word document.
It's not uncommon nowadays to mark a Word document through adding watermarks. In Word, you can choose either a default watermark style or custom your own one. What you need to know is that watermarks are always anchored to header and footer, so an accidental deletion of watermarks is not very possible without entering header or footer.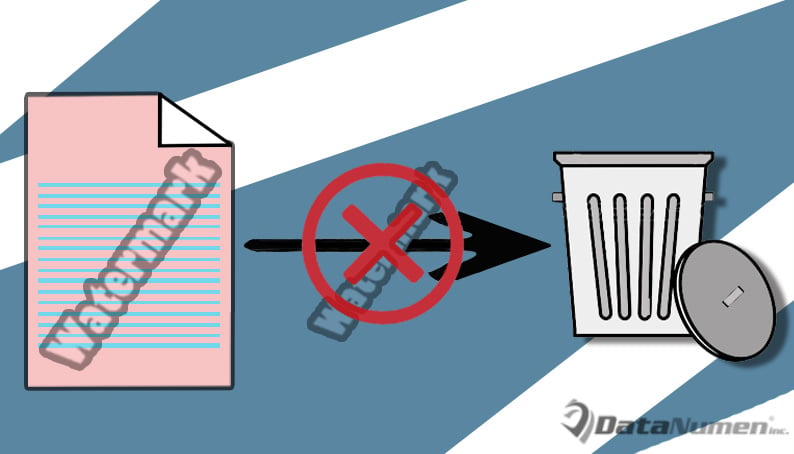 However, to remove watermarks are not hard anyway, for you can click "Remove Watermark" under "Page Layout" tab. In the following texts, we shall lay emphasis on 2 methods to disable one from deleting watermark in this way.
Method 1: Protect Your Entire Word Document
Sometimes, the very reason we insert watermarks into document is to prevent someone else from editing. If true, we can just protect the entire document as well.  For more details, you can refer to this article: How to Write Protect a Part or All of Your Word Document
Method 2: Use "Picture Content Control" to Insert Watermarks
There are 2 main steps in this method.
Step 1: Save a Watermark as Picture
In most cases, we prefer our customized watermarks instead of those default ones available in Word. To give a little perspective in creating distinct watermarks, we recommend you reading this link: How to Insert Custom Watermarks in Your Word Documents
After finishing this, save your watermark as picture for the use in step 2.
Step 2: Insert a "Picture Content Control" into Header
First and foremost, double click on header area to enter editing mode.
Then make sure your "Developer" tab is available. Click it if it's activated already. If not, enable it following instructions in Add "Developer" Option to "Menu Bar" section in this article: How to Insert Background Music into Your Word Document
Next click "Picture Content Control".
Click the icon in the middle of the box to insert a picture. Here by picture, we mean the watermark you saved earlier.
Then adjust the picture size and position.
When the picture is at right size and position, right click on it to choose "Size and Position".
Now click "Text Wrapping" and select "Behind text" for wrapping style.
Click "OK" to save the change.
Next click on the empty area outside the control box but inside the header area. And click "Properties" under "Developer" tab.
In the "Content Control Properties" box, enter texts in "Title" or "Tag" text boxes if you want. Then check both "Content control cannot be deleted" and "Contents cannot be edited" boxes.
Then click "OK".
Last but not the least, double click on main document part to exit header.
Here is the possible effect:

Cope with Data Disaster
Data disaster can happen anywhere anytime. While in Word, we may run into a corrupted doc from time to time due to the collapse of the software. Luckily, there are ways to rescue you files, such as obtain a professional recovering tool.
Author Introduction:
Vera Chen is a data recovery expert in DataNumen, Inc., which is the world leader in data recovery technologies, including xls fix and pdf repair software products. For more information visit www.datanumen.com