DataNumen Outlook Repair is the most effective way to fix corrupt Outlook PST files: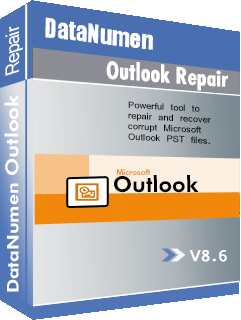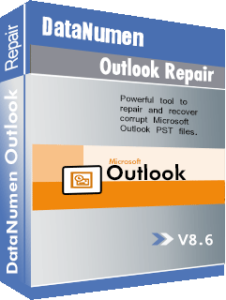 Now, let's discuss why the PST files will get corrupted. Numerous factors could lead to corruption or damage of your Outlook PST file. We categorize them into two groups: hardware-related reasons and software-related reasons.
Hardware Reasons:
If your hardware encounters issues while storing or transferring your MS Outlook PST files, or you use an improper hardware configuration, the PST files may become corrupted. Typically, there are five main types. For each type, we also provide its corresponding resolution.
Failure of Data Storage Device.

Example: Let's say your hard drive contains some defective sectors where your Outlook PST file resides. In this scenario, you might only be able to access a portion of the PST data file. Or, the data you retrieve could be erroneous.

Solution: Use a reliable storage device. Backup frequently.

Malfunctioning Networking Device

.

Example: You transfer an Outlook PST file over the Internet.  If any components of the Internet—be it network cards, cables, routers, hubs, or other devices—exhibit issues, then the transfer might result in file corruption.
Solution: Use a high-speed reliable network. Use CRC to ensure data integrity.

Power Outage. Should a power failure occurs while you're accessing the PST file, it may get damaged.

Solution: Uninterruptible Power Supply (UPS) can effectively mitigate power failure issues.

Misconfigurations.

Example 1: A common hardware misconfiguration is putting the PST file on a network drive or server, then accessing it via Outlook remotely. Since a PST file is usually huge (from several GB to several tens of GB), it is not designed to be accessed remotely, even via the high-speed Intranet, as this will make your PST file corrupt frequently.
Example 2: Store the PST file on an external USB hard drive, then access it from Outlook. Similar to example 1, this is also a bad practice in using PST files.
Solution: Make sure all the PST and OST files accessed by Outlook are stored on your local computer.

Misoperations.

Example: If you unplug an external hard drive when copying a PST file to it, then the PST file will get corrupted.
Solution: Always follow best practices when operating, for example, safely remove the device before unplugging it.
Software Reasons:
Software-related issues may also cause Outlook PST file corruption.
Improper File System Recovery.

It might seem surprising, but there are instances where attempts at file system recovery can result in the corruption of PST files. This often occurs when the file system has encountered a severe issue. After a data recovery tool or specialist recover the PST files, the salvaged files might still be corrupted. Here are the reasons

:

Sometimes, in a file system disaster, certain segments of the original PST file might be permanently lost or replaced by irrelevant data. This results in a recovered PST file that is either incomplete or filled with incorrect data.

The data recovery tool or specialist may lack the requisite proficiency and mistakenly collect useless data, saving it as a .PST file. As such so-called .PST files do not contain actual Outlook data, they are entirely useless.

It's also possible for a recovery tool or specialist to gather the correct data blocks for the PST file, but incorrectly assemble them. This too can render the restored PST file unusable.

Therefore, when faced with a file system disaster, it's crucial to select a professional data recovery tool or specialist to recover your PST files. The wrong choice could exacerbate the problem rather than alleviate it.

Malware or Virus Infections. Numerous malicious programs have the potential to infect and harm Outlook PST files or render mailbox items inaccessible. As a protective measure, it's highly advisable to install top-notch antivirus software for your Outlook email system.
Abnormal Termination of Outlook. Under normal circumstances, it's advisable to exit Outlook in a proper manner, ensuring all changes to the PST file are saved and then using the 'Exit' or 'Close' options from the menu or window. However, if Outlook is closed unexpectedly while you're working on a PST file, the file is susceptible to corruption or damage. This could occur due to power failures as previously mentioned, or if Outlook is busying in doing something and you select 'End Task' from the Windows Task Manager, or if the computer is turned off without properly shutting down Outlook and Windows.
Abnormal System Shutdown. This is similar to terminating Outlook abnormally. When Outlook is still open and your system shutdowns abnormally, the PST file will get corrupted easily.
Deficiencies in Outlook data file format. PST and OST are the main Outlook data file formats. Both of them are not robust and well-designed for reliable and long-term storage of large volumes of data. So file corruptions are very common and frequent.
Deficiencies in Outlook application. Every program has deficiencies, so does Outlook. Some deficiencies come from the short sights of the designers. They can usually be expected but cannot be solved simply by fixes or patches. For example, in the early days, the Microsoft designers don't believe there will be bulk of data in PST files, so the maximum size of PST file for Outlook 97 to 2002 is 2GB by design. But nowadays, the communications and personal information grow so quickly that the PST file increases dramatically. When the PST file approaches or goes beyond 2GB, it will get corrupted. While the other deficiencies result from the carelessness of the programmers. In general, they cannot be expected but once found, can be solved by small fixes or patches. For example, when MS Outlook encounters an unexpected error, it will say "Microsoft Outlook has encountered a problem and needs to close. We are sorry for the inconvenience." and terminate abnormally, which is very likely to make the PST file corrupted.
Symptoms of Corrupt PST Files:
Below are some common symptoms when PST data files are corrupt:
We also collect a more complete list so that you can match your case there.
Fix Corrupt PST Files:
You can use our award-winning product DataNumen Outlook Repair to recover your corrupt PST files.
You can use DataNumen Outlook Drive Recovery to scan the drive or disk where you have stored your Outlook PST files in the past, and then recover data from it.
You can use scanpst.exe (Inbox Repair Tool) to scan and recover your corrupt PST files.
FAQs:
How many disk spaces are required for the new PST file?
Normally if the original corrupt PST file size is S, then you'd better prepare at least 1.1 * S free disk spaces for it.
How to find the Outlook PST file to be repaired?
Method 1: You can click the search button in our Outlook PST repair tool to search for the PST files on the local computer. Then select the one you want to repair.
Method 2: You can search for the PST files in Windows.
Method 3: You can do as follows:
Open Outlook.
Click File > Account Settings. In the drop-down list, click Account Settings.
In the pop-up Account settings dialog, click Data Files tab to see the PST file path.
Do I need to make a backup of the source PST file before the repair process?
No. Our recovery software will only read data from the source PST file. It will NEVER write into it. So the repair process will not make any changes on the source PST file. And you do NOT need to create a backup of it.
Which versions of Windows are supported by your tool?
Our file recovery tool supports Windows XP/Vista/7/8/8.1/10/11 and Windows Server 2003/2008/2012/2016/2019.
How many disk spaces are required to install your tool?
We recommend you keep at least 50MB on your hard drive to install our tool.
Is Microsoft Outlook required to run your tool?
Yes, you need to have Microsoft Outlook installed on your local computer so that our tool can run and repair the corrupt PST files.
Which versions of Outlook are supported?
Our tool supports MS Outlook 97 to 2019 and Outlook for Office 365.
How long does it take to repair a corrupt PST file?
The time of the repair process depends on several factors, including the PST file size, the complexity of the PST file, the computer configuration, etc. Normally it requires several hours to repair a 10GB PST file on a modern computer.
Can you recover deleted emails and folders?
Yes, our tool can recover permanently deleted emails and folders from the PST files. We enable these features by default. You can also change the settings by:
Start our recovery software.
Click the Options tab.
Click the Advanced Options tab in the left panel.
In the Recover Deleted Items group, you can enable or disable the Recover deleted folders and Recover deleted messages options.
Why do you save the output file in PST format?
Outlook can open Outlook PST files directly so that you can access its contents easily. Also, Exchange Server can also import PST file data easily.
What is the structure of the new PST file?
The new PST file will have the same folder structure as the original corrupt PST data file. Our tool will recover the folders, then put the emails to their original folders.
Moreover, there will be some lost & found items. We will put them into some lost and found folders called Recovered_Group#, where # is a sequence number starting from 1.
Are there any size limits on the PST files? What are the solutions?
Yes, below are the size limits for different versions of Outlook, together with the corresponding solutions:
| | | | |
| --- | --- | --- | --- |
| Outlook Version | Size Limit(GB) | Hard Limit | Solution |
| Outlook 97 – 2002 | 2GB | Yes | This limit is due to the design deficiency of the old PST format. So the only solution is to convert the old PST format to the new format. |
| Outlook 2003 – 2007 | 20GB | No | This limit is set in the registry, below are the solutions: |
| Outlook 2010+ | 50GB | No | Same as Outlook 2003 – 2007 |
Can you output recovered emails as .HTML files?
Sorry but our Outlook PST repair tool does not provide such a function directly. But you can still do so manually, as below:
Repair corrupt PST file and output the recovered PST file.
Open the recovered PST file in Outlook.
Export the wanted emails to .HTML format.
I cannot find wanted emails in the recovered PST file. What can I do next?
First of all, you'd better find your emails carefully in the recovered PST(Personal Storage Table) file. There are 3 ways you should try:
Find emails in their original folders. For example, if your wanted emails are in the Inbox folder, then you should check Inbox in the recovered PST file and look for the wanted emails.
Find emails in the lost and found folders. Folders like Recovered_Group### are lost and found folders. Sometimes, your wanted emails are not normal items, but lost and found items. So you can try to find them in the lost and found folders accordingly.
Search the whole PST file for the wanted emails, with their subjects or other information. Sometimes, due to file corruption, the recovered emails are not put back to their original locations or the lost and found folders. In such a case, you can try to search the whole PST file.