In this article we look at workarounds for dealing with scrolling issues in Ms Outlook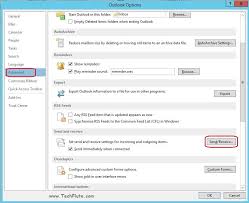 Despite its apparent sophistication, there are several errors that users experience while working on the Ms Outlook email client. For instance, people often find problems in scrolling while working in MS Outlook but there are ways to tackle this problem too. Many a times, people feel that while the scrolling is going as smooth as it should be in other applications but it is not so smooth in MS Outlook. In this article, we will be throwing some light on tips to tackle the scrolling issue in MS Outlook to give you a better experience.
First and the foremost point to keep in mind while Scrolling in Outlook, is to see whether you are scrolling a message list or the window itself. Secondly, it is also important to note that whether you are using a scroll wheel on your mouse or simply dragging the scroll bar upwards or downwards.
In case, you are facing problem to scroll with the first method of using the Scroll Wheel of the Mouse in Outlook, the most common reason might be the problem with the driver issue or compatibility issue of your mouse. In order to check this issue, you just need to change the driver of your mouse to Generic PS/2 compatible Driver for Mouse. This can be done by going to the Control Panel and then opening the Device Manager and choosing the Mice & Other Pointing Devices. After this, just do a right click on your mouse and pick the Update Driver Software Option. Next you will be required to pick the option of Browse Computer for Driver Software. Just select either the MS PS/2 Mouse or PS/2 Compatible Mouse followed by clicking on Next in order to finish the driver installation for a smooth scrolling of the scroll wheel in Outlook.
For users, who are using the Dragging Scrollbar and facing problems in Outlook to scroll up and down in the message list there are a few things to keep in mind. First of all, bear in mind that when there are a number of items in the message list folder, the scrollbar will not move up and down as you wish. However, it will work fine if the items are less in the folder. In other words, it will be able to scroll up and down when there will be less than 100 messages in a message list folder. Another tip to work with the scroll bar is to use the arrow buttons for a smarter scrolling upwards and downwards. You just need to click on the Arrow Buttons or use the Arrow Keys from the keyboard or press Page Up or Page Down to make the scrollbar function smooth and fine in Outlook.
Negotiating PST errors in Outlook can be tricky
In case you encounter PST errors in Ms Outlook, recovering from them may be tricky. The default Microsoft tool, ScanPST.exe is often unable to completely recover your data. In many cases it may hang up, especially when you are dealing with a large PST file. In such a scenario you should immediately get a top of the line PST recovery tool like DataNumen Outlook Repair application. Owing to its cutting edge recovery algorithm, it can bring back all your compromised data including emails, journal entries, notes etc in quick time. Moreover it can handle large PST files and different media storage formats with ease.
Author Introduction:
Alan Chen is President & Chairman of DataNumen, Inc., which is the world leader in data recovery technologies, including sql recovery and outlook repair software products. For more information visit https://www.datanumen.com/sql-recovery/