In this article we will explore the option of snoozing several Outlook reminders in one go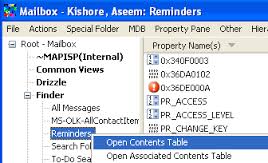 Whether you agree or not, it might have happened to you that even without looking at a reminder, you would have hit the snooze button. This might have happened not once but many times a day. Setting up reminders in Outlook is one thing and managing them in a productive way is altogether another challenge. If you have multiple reminders hampering your work at any point, it is better to learn to snooze a bunch of them together in MS Outlook.
While we agree that reminders are set to get reminded of something very important to us either personally or professionally; they can become really frustrating when you are in the middle of a meeting or event and they pop up suddenly with different tasks. In such a case, it is always better to either close the reminder popup or snooze it to reappear later in the day. While, the first option lets you forget the thing reminded and the second is a time consuming option to set the snooze time in the middle of an important meeting. The best alternative here is to snooze all the reminders together and save both frustration and time.
Now, let us describe the exact method of snoozing a list of reminders together so that you are not bugged every now and then each time with a different reminder. You first of all need to choose the First Item appearing in the list of Reminder Pop Ups, when they appear on your Outlook screen. After this simply press the Shift button on your keyboard. Once you have done this, choose the Last Item and finally set the Snooze Time available from a list of drop down menu followed by clicking on the Snooze Option.
In case, you wish to change the Default Snooze Time across all your set appointments and reminders in MS Outlook, you can first open the Tools from the File Menu and then go to the Options. Then, you will need to change the Default Snooze Time from the Reminder Drop Down. For instance, if you wish to get a snooze for a reminder after 10 minutes, you can set that as a default snooze time and you will never be bugged up with a reminder pop up before 10 minutes of the exact reminder time.
We now assume that through the above mentioned easy method, you will be in a position to save not just time and energy but also help yourself out from unwanted frustration of reminder pop ups while working on MS Outlook.
Outlook application can at times topple over due to a PST error
An Outlook crash due to a PST error can prove to be risky for your data. It is thus prudent to invest in a PST repair tool like the DataNumen Outlook Repair application to avoid a data loss situation. This versatile tool can extract every piece of information that you have stored in the email client with ease. Moreover the tool is exceptionally successful in dealing with large PST files that are over several gigabytes in size.
Author Introduction:
Alan Chen is President & Chairman of DataNumen, Inc., which is the world leader in data recovery technologies, including sql recovery and outlook repair software products. For more information visit https://www.datanumen.com