Sometimes you may wish to check organizers of your appointments and meetings in your Outlook calendar. This article will introduce you a quick approach to check the organizers.
By default, when you receive a meeting invitation, the meeting will be added to your calendar automatically. Therefore, at times when you view your schedule in calendar pane, you may feel that some meetings are strange. At that point, you will hope to check who organize the meetings. Now I will introduce a fast tip.
Check the Organizers of Your Appointments and Meetings
At the very outset, launch Outlook program and head to Calendar pane by clicking the "Calendar" icon in the navigation pane or pressing a keyboard shortcut "Ctrl + 2".
Then you should change the current view to "List". Switch from "Home" tab to "View" tab. Click on "Change View" button in "Current View" group. From the drop down list, select "List" option.
After that, you can see all your appointments and meetings in the middle of the screen. Now you ought to right click on the row of the field names and choose "Field Chooser", like the following screenshot.
Next you will see a new small dialog box of "Field Chooser" will pop up at the left side. Now you would be required to find "Organizers" related field. Take the following steps.
Firstly, click the down arrow in the "Frequently-used fields" button and choose "All Appointment fields" from the drop down list.
Then you ought to locate and select "Organizer" from the available fields.
Next drag it to the row of the fields, put it in your desired location.
Note: In reality, the "Organizer" in "All Appointment fields" is equal to the "From" in "All Mail fields". Thus you can drag and add "From" field to achieve it.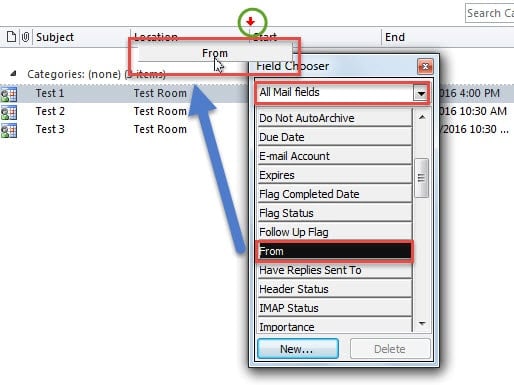 After adding the corresponding fields, you can close the "Field Chooser" dialog box by clicking "X" icon.
Finally you will back to your Calendar in "List" view. Now you will be able to check the organizers of all your meetings in Outlook with utmost ease.
Outlook Cannot Be Free from Errors or Corruptions
Like other common programs, Outlook cannot be exempt from errors or damages, either. Thus, for regular Outlook users, it would be a tedious and arduous task to protect Outlook. In the first place, the first and critical step is to make a regular backup for Outlook data, which will facilitate corrupted Outlook PST recovery. Also, it is vitally important to keep cautious about daily behaviors. For example, keep closing Outlook properly, never download unknown attachments and don't click the suspicious links. In addition, you had better get hold of a repair tool, like DataNumen Outlook Repair, which will come in handy in the event of crashes.
Author Introduction:
Shirley Zhang is a data recovery expert in DataNumen, Inc., which is the world leader in data recovery technologies, including repair mdf db damage and outlook repair software products. For more information visit www.datanumen.com