When composing a new email and intending to send it out, if you find "Send" button disappears, what can you do to solve the issue? This article will look at the trouble and teach you 4 troubleshooting steps to get rid of it.
As a rule, if you cannot see the "Send" button, there are great chances that no email account is configured in the current Outlook. Actually as long as an email account has been configured properly, "Send" button must be directly located adjacent to "To", "CC" and "Subject" field.
You may find that you still can view all previously received emails and use "Reply" or "Forward" button to open a new message window. However, even so, without an email account configured in Outlook, you cannot send the message. Therefore, if you discover that "Send" command disappears, you should verify if an account is configured correctly in your Outlook.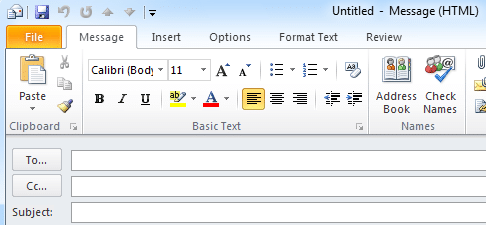 Step 1: Verify if an Email Account Is Configured in Your Outlook
To start with, open Outlook application.
Then go to "File" menu and click "Account Settings" button under "Info" tab..
Next a new dialog box of "Account Settings" will pop up. Under "Email" tab, you can verify if an email account is configured. If there are no entries under "Email" tab, it means that no email account is configured. Click "New" button to add an account at once.
Step 2: Re-add the Email Account
Nevertheless, if you find there has been an email account configured, it is likely that email account configuration is incorrect. Perhaps the previous account setup process was interrupted so doesn't complete. Or maybe the files which store the email account configuration information have been corrupted. In this scenario, you should re-add the email account:
For a start, in "Account Settings" window, select the email account and click "Remove" button.
Then click "New" to add the account again.
Finally after account setup, you can create a new message to check if "Send" button has come back.
Step 3: Create a New Mail Profile
After the above step, if "Send" button still doesn't show up, it's supposed that the mail profile is damaged. Hence you should create a new profile.
At the outset, close Outlook and go to "Start Menu" > "Control Panel".
Select "Mail" applet in "Control Panel".
Then click on "Show Profiles" button.
After that, click "Add" button, assign a name for the new profile.
Next follow the onscreen instructions to complete account setup.
Eventually restart Outlook in the new profile to see if the issue persists.
Step 4: Contact Professionals for Assistance
If unfortunately, all of the above tips cannot resolve your problem, you have to call for professional assistance, such as contacting MS Office or recurring to some specialized community-based support sites.
Extra Tip: No "Send" Button in Outlook 2003 and Previous Versions
If you are using Outlook 2003 or older versions, it may also be that you remove the "Send" button from the toolbar by accident or the toolbar is corrupted. In this situation, you can solve the issue by fixing the toolbar corruption – resetting dat files. The common dat. files that you can reset to solve the error are outcmd.dat and extend.dat. You should ensure Outlook is closed, and then find the files in File Explorer. Rename it. Lastly when Outlook restarts, it will re-create the files by itself.
Outlook Errors Can Occur from Time to Time
Obviously, errors are all around us, the regular Outlook users. Therefore, we need to calm down whenever we encounter them, such that we can find out the right troubleshooting measures. Moreover, like errors, crashes can happen to us with no warnings. So it is prudent to get hold of a repair tool like DataNumen Outlook Repair ahead of time. It will come in handy for Outlook recovery.
Author Introduction:
Shirley Zhang is a data recovery expert in DataNumen, Inc., which is the world leader in data recovery technologies, including sql recovery and outlook repair software products. For more information visit www.datanumen.com