Do you know that Outlook has the Journal feature, which enables us to keep diary? By default, it has offered us some common entry types, such as "phone call", "task" and "meeting", etc. This article will teach you to create a custom journal entry type, like "Shopping".
Apart from Email, Calendar, Task, Outlook has a good feature called "Journal", which permits us to keep personal diary in Outlook. When you enable all the folders shown by "Ctrl + 6", you will be able to find it. By default, Outlook has provided us some frequently-used journal entry types. But if you would like to create some personalized ones, like "Shopping", you can follow the steps below:
Create a Custom Journal Entry Type in Outlook
At the beginning, keep Outlook closed and go to "Start Menu".
And type "regedit" in the search field and press "Enter" key button.
After that, you will get into the Registry Editor, in which you need to find the following keys in order: "HKEY_CURRENT_USER" > "Software" > "Microsoft" > "Shared Tools" > "Outlook" > "Journaling".
Then you need to create a new key for the custom journal entry type, such as "Shopping". Right click on "Journaling" key and select "New" > "Key" from the right clicking menu. And designate it as "Shopping".
Next you should click on the newly created key "Shopping" and proceed to create three values under this key. Please follow the steps below:
Right click "Shopping" key and choose "New" > "String Value". Then in the right pane, name it as "Description". Double click the new value and type the name of the custom journal entry type, like "Shopping". Click "OK" to save it.
Then right click on "Shopping" key again and choose "New" > "DWORD Value". And name the value as "AutoJournaled". You needn't change its value data, just leaving it the default data "0".
The last value is a string value called as "Large Icon". Like the step (1), create the "Large Icon" value under "Shopping". Double click it, and then you ought to input the value of your desired icon in the "Value data" field. The following screenshot shows an overview of all icons as well as their varying value.
For example, you could fill in "[22]" in the value data. Lastly click "OK".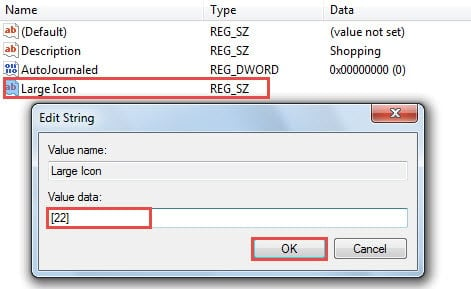 Finally you can exit the Registry Editor. Now you can start Outlook to have a try.
Check if there has been a "Shopping" journal entry type:
Firstly, switch to "Journal" folder. Press "Ctrl + 6" to show the folder list and select "Journal" folder in the navigation pane.
Then click on "New Journal Entry" in "New" group under "Home" tab.
Next in the new window, click the down arrow in "Entry Type" field. From the drop down list, you must be able to find the custom journal entry type, "Shopping".
After saving and closing the new journal entry, you can see it in you selected icon within the timeline.
Recur to a Third Party Tool in Case of Outlook Corruptions
Despite boasting of multiple capabilities, Outlook still cannot be free of errors and crashes. Thus it comes backed with a built-in repair tool, scanpst. However, in most cases, the tool cannot be helpful. Therefore, it is essential to keep a more experienced third party PST repair tool nearby, like DataNumen Outlook Repair.
Author Introduction:
Shirley Zhang is a data recovery expert in DataNumen, Inc., which is the world leader in data recovery technologies, including sql recovery and outlook repair software products. For more information visit www.datanumen.com