In this article we explore the curious phenomenon of old appointments in Ms Outlook disappearing after a time period, say few weeks or months.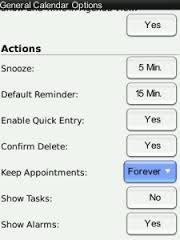 The Ms Outlook application is known for its quirks amongst its regular users. It has a habit of throwing out strange errors messages and view settings getting modified out of the blue. Yet most of these happenings can be explained in a logical fashion and it is also true for the curious case of old appointments getting mysteriously removed. A number of users have over the years observed that their old appointments, after a period of time were getting removed by the Outlook application. In fact some users, who like to keep track of their meetings and appointments for maintaining records, have specifically voiced their discomfort with old appointments getting wiped away one bright day. Imagine a case of a marketing professional who could not attend certain meetings in a given month and would like to follow them up at a later date. If the old appointment entries vanish, he would be looking at a great opportunity loss. Well the good part about the Outlook application is that it does not delete any data, including appointments on its own. It is however an entirely different story if the same is being moved due to synching permissions given to mobile phones or Auto Archive settings coming into play.
Start By Checking your Auto Archive Settings
At the very beginning you need to check your Auto Archive settings. If you have instructed the Auto Archive to clear elements beyond a certain date, your old appointments and other calendar entries may be at risk. You can find the Auto Archive settings by clicking on Tools and then on Options further selecting the Other tab. In the Auto Archive settings, specifically check the period set for "Clean out items older than…"
Check Settings for Calendar Synching with your Smartphone
In the scenario that you are using a Smartphone whose calendar app is designed to sync with the Ms Outlook application, deletion of old appointments can be possible. Since mobile phone calendar views can get clogged by due to excessive appointments, in some phones, default settings may be present to remove old appointments.
You can recover accidentally deleted appointments with a specialized recovery application
In the unfortunate event of your old appointments actually getting deleted by mistake, you can take recourse to an outlook recovery tool like DataNumen Outlook Repair to bring back your lost data elements. The tool besides helping you deal with PST crashes can take recover any accidentally deleted emails or contacts and even calendar entries. Now when you invest in a recovery application, you need to make sure that it is capable of tackling every possible scenario that you are likely to experience like large file size or the kind of media a corrupted file is located on. Thankfully this tool meets all such parameters and can even split a large recovered PST file into small chunks with an eye on increasing their stability.
Author Introduction:
Alan Chen is President & Chairman of DataNumen, Inc., which is the world leader in data recovery technologies, including sql recovery and outlook repair software products. For more information visit https://www.datanumen.com/