In this article, we are going to look into the concept of email address policies, which is helpful to stamp the required SMTP address on each users.
Introduction:
In Microsoft Exchange, you can repeatedly hear this word policies like Retention Policy, Address Book Policy etc., because most of the functions, tasks are performed by the assigned policies. In this article, we are going to learn about one such policy called the "Email Address Policy".
What is an Email Address Policies?
In simple terms, Email address Policies are the protocols that defines the email address naming convention for any user. Some environment will have multiple email domains. Based on the department or other requirements some or all of the email domains will be added to the user as an alias email, for example certain companies want their user primary email looks like below
firstname.lastname@datanumen.com (eg:John.Doe@datanumen.com)
(Or)
firstinitiallastname@datanumen.com (eg. JDoe@datanumen.com)
So this Email Address Policies expands option to create primary email address and other alias as desired by the management automatically. It is a dynamic process where it gets applied once the policy met.
How to Create Email Address Policy
Microsoft Exchange always creates one Email Address Policy at the time of installation. It is called as Default Policy.  This can be located in Exchange Management Console → Organization Configuration → Hub Transport → Email Address Policies.
But we can create custom policies as per our requirement. In the action pane we will have an option to create "New Email address Policy", and provide a Name to the Policy.
Scoping:
Select the scope of the Policy. This determines the users for whom the policy should be assigned. There are multiple ways and options for scoping, some of them are,
Based on Container – Any OU can be assigned, so that all the users in that container will be assigned with this policy.
Based on State, Company, Department or Custom AD attributes
Based on Security Groups – Any user who is part of the particular security group will be assigned with this Policy.
We have a preview option which will resolve the recipients and display it to us.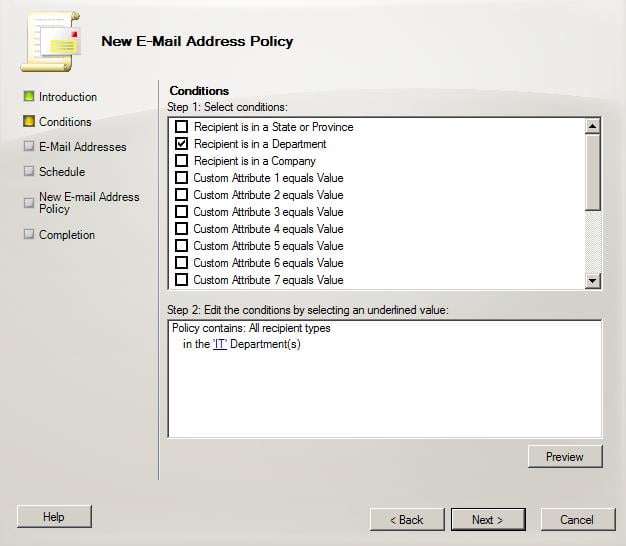 SMTP Protocol
In this step, we need to define the primary email address and other alias if required. There are two parts in the email address local part which comes before @ symbol and the domain part after @ symbol. There are certain pre-defined local parts, they are
Lastname (John.Doe)
FirstnameInitial and LastName (JDoe)
Firstname and LastName Initials (JohnD)
FirstName (Doe.John)
LastNameInitial and FirstName (DJohn)
LastName and FirstnameInitial (DoeJ)
Apart from above pre-defined options we can create custom first parts also.
%g  = givenName (FirstName). 
%s  = sn (Last name).  
%4s = means first four letters of sn.
%d  = displayName. 
%m  = Exchange alias. 
Example: Management wants the primary email address with first 3letters of the firstname (.) complete last name. To achieve this we would be using the above filters.
First 3letters of the first name = %3g.%s = for Jimmy Thompson, this would translate to Jim.Thompson.
Now let's create the second part. Second part can be anyone of the accepted domain. Apart from the accepted domain we can't add any other domains.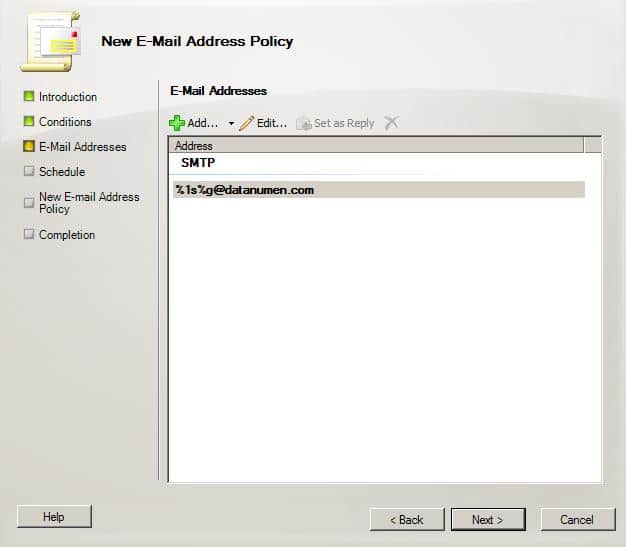 Assignment: The final step is to enable the Policy. We can enable immediately or apply at a particular date and time or left unassigned for later purpose.
Conclusion:
It is not mandatory that all the users should be assigned with policies, we can disable the policy for any user through their properties and have standalone email address. These information are stored in Active Directory (AD) level. If there are any issues we can recover it from AD, however if any mails need to be recovered then we can consider specialized tool to recover Exchange which is not a time consuming method.
Author Introduction:
Sophia Mao is a data recovery expert in DataNumen, Inc., which is the world leader in data recovery technologies, including repair pst data corruption and word recovery software products. For more information visit www.datanumen.com