Outlook New Mail Alert always pops up in the bottom right corner of Desktop. Of course, we can also change it to a more striking location, like the middle of the screen. This article will discuss about how to change and reset its location.
To be honest, I'm very dependent on Outlook New Mail Alert, which prevents me from missing any important emails. In addition, so as to make it more arresting, I move it to the middle of my Desktop. Now I will introduce the approaches to adjust and restore the alert's location in detail.
Change the Location of Outlook New Mail Alert
In fact, adjusting the location of New Mail Desktop Alert is considerably simple. When the small dialog box pops up, you can move your cursor and click on the dotted line on the top, keep pressing the left mouse button and then drag the dialog box to anywhere in the Desktop as per your preference.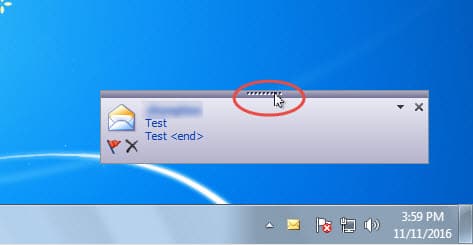 Since you changed its default location, next time the New Mail Desktop Alert will be positioned in the customized location. Perhaps you may prefer to place it in the central screen for visibility. But if one day you feel that it always disturbs your normal working, you may wish to reset it to its default location. So move on to the next part.
Restore the Location of Outlook New Mail Alert
Actually the location of New Mail Desktop Alert is precisely recorded in Registry Editor. Therefore, if you would like to reset its location, you have to makes some changes in Registry Editor. Follow the steps below:
At the very outset, exit Outlook program properly and go to "Start Menu".
Then in the search box, you can type "regedit" and press "Enter" key button.
A new dialog box of "User Account Control" will pop up. It is asking if you are ready to allow Registry Editor to make changes on your computer. Press "Yes" button directly.
Next in "Registry Editor" window, you need to find the following registry keys: "HKEY_CURRENT_USER" > "Software" > "Microsoft" > "Office" > "<version>" > "Common" > "DesktopAlerts".
Note: In regard to "<version>" variable, it depends on your Outlook versions. For instance, Outlook 2010 should point to "14.0", Outlook 2013 to "15.0", etc.
After that, turn to the right pane. Over there, you will see two DWORD values – "XOffset" and "YOffset". What you should do is to remove them.
Finally close Registry Editor. From now on, the New Mail Desktop Alert" will return to the initially default location.
Beware of All Potential Threats around Outlook
Currently, cyber threats are all around. There is no doubt that malicious email has been one of the most common threats. Hence, for Outlook users, it is vital to keep alert about the potential risks, such as email borne viruses. For example, do not open the unknown attachments and never click embedded links in suspicious emails. Otherwise, once PST file gets infected, Outlook data will be ruined as well. At that point, you have no alternative but to take aid of a potent repair tool, like DataNumen Outlook Repair, which is specialized in PST corruption repair.
Author Introduction:
Shirley Zhang is a data recovery expert in DataNumen, Inc., which is the world leader in data recovery technologies, including repair mdf file and outlook repair software products. For more information visit www.datanumen.com