Faced with canceled meetings, some users would like to auto strikethrough them instead of thoroughly removing them from the calendar folder. Looking at this requirement, this article will introduce a method to get it.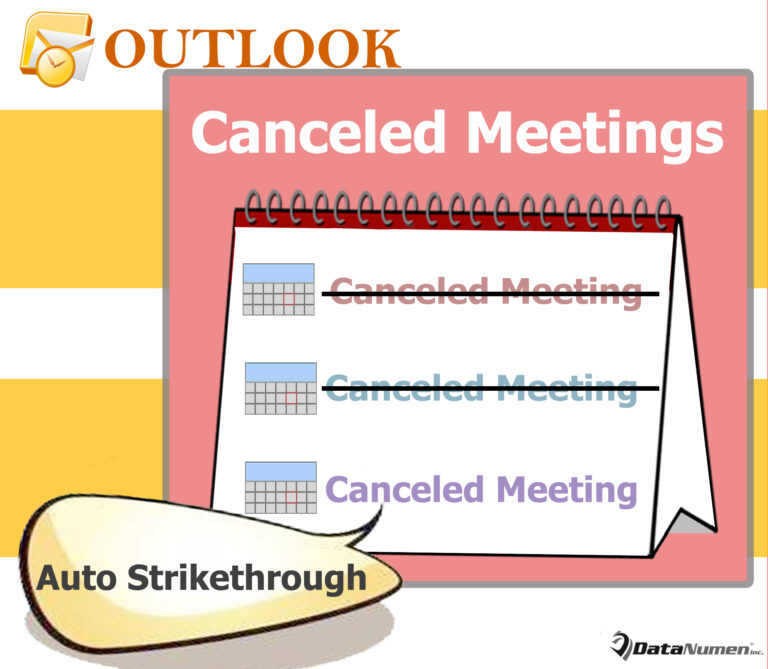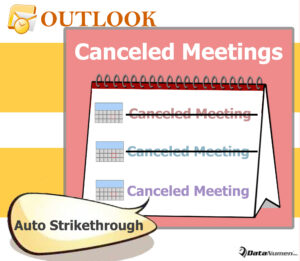 My previous article "How to Auto Remove Canceled Meetings from Your Outlook Calendar" has taught users to auto deleting canceled meetings. After reading this article, some users express that what they want is only strikethrough canceled meetings rather than deleting them totally. Luckily, it can be realized by a conditional formatting rule. In the followings, we will show the detailed steps.
Auto Strikethrough Canceled Meetings in List View
For a start, in Outlook, access to Calendar pane via "Ctrl + 2" key button.
Then, open a calendar folder.
Next, if the current view is not "List" view, change the view. Switch to "View" tab, click "Change View" and select "List".
Subsequently, still in "View" ribbon, click "View Settings" button, which will bring out a new dialog box of "Advanced View Settings: List".
In this dialog box, hit the "Conditional Formatting" button.
After that, another dialog box of "Conditional Formatting" will pop up. In it, you need to click "Add" button and enter a name for this new formatting rule, such as "Canceled meetings".
Later, click the "Font" button. Then, in the "Font" dialog, enable "Strikeout" and hit "OK".
After back to the "Conditional Formatting" box, click the "Condition" button.
Then, in the "Filter" dialog box, under "Appointments and Meetings", type the "Canceled:" in the "Search for the word(s):" field.
Next, shift to "Advanced" tab, under which you could add the "Message Class is (exactly) IPM.Appointment" filter, like the following screenshot:
Afterwards, click a series of "OK" until all the dialog boxes are closed.
Finally, you will see in the calendar item list, strikethrough has been added to the canceled meetings.
Use Dark Color Instead in Calendar View
Whereas, the above means is only available in List view. If the calendar folder is in Calendar view, you are unable to set up such a conditional formatting rule. As you try to create a conditional formatting rule in Calendar view, you will find that you are allowed to specify the color, unable to specify the font. Hence, in this case, it is suggested to use dark color, such as "Black" to show canceled meetings, such as the image below: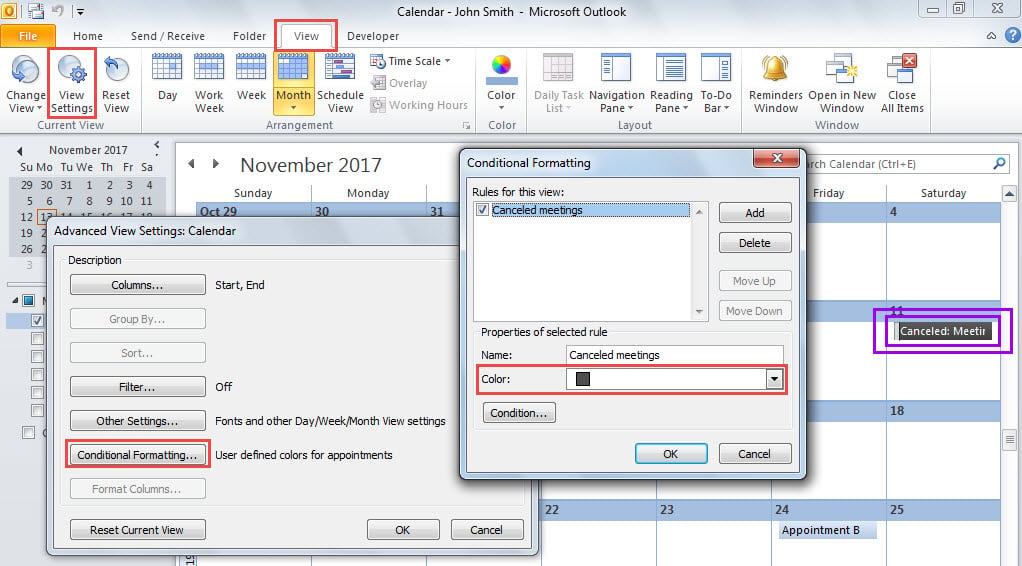 Necessities in Outlook Data Protection
Outlook is susceptible to corruption. Thus, users have to try best to make enough precautions to safeguard your Outlook data. Firstly, you ought to back up your Outlook data files at regular intervals. In addition, you have to pay attention to your daily operations in Outlook, such as never downloading files in unknown emails, closing Outlook application properly, etc. Last but not least, you had better prepare a tip-top fix tool, like DataNumen Outlook Repair, which will come in handy in case of corrupt PST file.
Author Introduction:
Shirley Zhang is a data recovery expert in DataNumen, Inc., which is the world leader in data recovery technologies, including corrupt sql and outlook repair software products. For more information visit www.datanumen.com