When you search the whole mailbox by search box in Home page, the results will be listed by date, irrespective of folders. So it will be difficult to identify your target items. In this article, 4 effective methods to quickly recognize the folder of the results will be introduced.
I have utilized Outlook for a long time. So undoubtedly there are excessive emails stored in my mailbox. When I need to find some items but forget their located folder, I tend to search the entire mailbox by search box in Home page. But facing too many results, I still cannot identify the located folder directly. But the following 4 methods bring out the folder info.
1. Use "Advanced Find" in Search Tools
At very outset, access "Search Tools" ribbon by clicking search box or press "Ctrl + E".
Then click "Search Tools" button in the group of "Options". From the drop down list, choose "Advanced Find".
Clicking it will bring out a new window. You can select the type of search items, which data file and so on. Type the specific search words and press "Find Now" button. Finally you can see the located folder of the search results directly under "In Folder" column at the bottom.
If you are accustomed to using search box in Home page instead of "Advanced Find", you can employ the following 3 ways to recognize the located folder.
2. Check the Properties of the Search Results Individually
Provided that you only would like to identify the folder of a fraction of the search results, just check their properties.
At first, carry out the searching operation as usual.
After the search results turn up, you can select one and press "Alt + Enter" keyboard shortcut.
A new dialog box will pop up, in which you can see its folder clearly.
3. Sort the Search Results by Folder
If you want to check the folder of a great amount of search results, the above method will bring you a huge project. However, the following approach will be a better choice.
To start with, repeat the step 1 in the above method.
Then switch from "Home" tab to "View" tab, under which you should locate "Arrangement" group. You should click the down arrow there to open its drop down list.
From the list, you can select "Folder".
Finally after you back to home page, you can see all the results have been sorted in accordance with their folders.
4. Highlight the Search Results of Different Folders via Different Colors
In addition to the above two ways, highlighting the search results by different color on basis of different folders will be more complex but can make your mailbox colorful and attractive. You need to create a conditional formatting rule to change the font settings of results belonging to distinguished folder. We have minutely introduced this technique in our previous article – "How to Highlight the Emails of Specific Folders in Search Results". If you are interested in this tip, you can refer to it.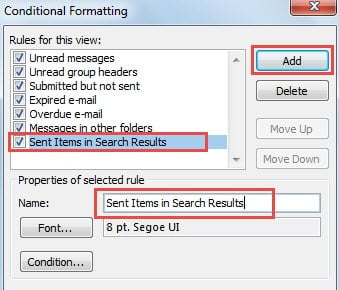 Extract Maximum Data from Corrupted Outlook File
When faced with Outlook corruption, you can firstly apply Outlook inbox repair tool to have a try. Nevertheless, in most cases, Scanpst.exe is not adequate to repair seriously broken Outlook file. Therefore, if it fails, you can proceed to ask third party software for help, such as DataNumen Outlook repair, which holds the highest Outlook recovery rate in its class. Hence it must be capable of bringing back the maximum data to you.
Author Introduction:
Shirley Zhang is a data recovery expert in DataNumen, Inc., which is the world leader in data recovery technologies, including sql recovery and outlook repair software products. For more information visit www.datanumen.com