System reserved partition is of great importance to Windows booting. Thus, if this partition gets deleted by accident, Windows will fail to boot. But don't worry. In this post, we will share you 4 practical solutions to this issue.
Have you ever accidentally deleted the system reserved partition? Many users may feel it redundant, so they delete it intentionally. However, no matter in what cases the partition gets deleted, as long as it's lost, Windows will definitely fail. In this situation, it is very likely that data corruption and loss will occur, like corrupt PST.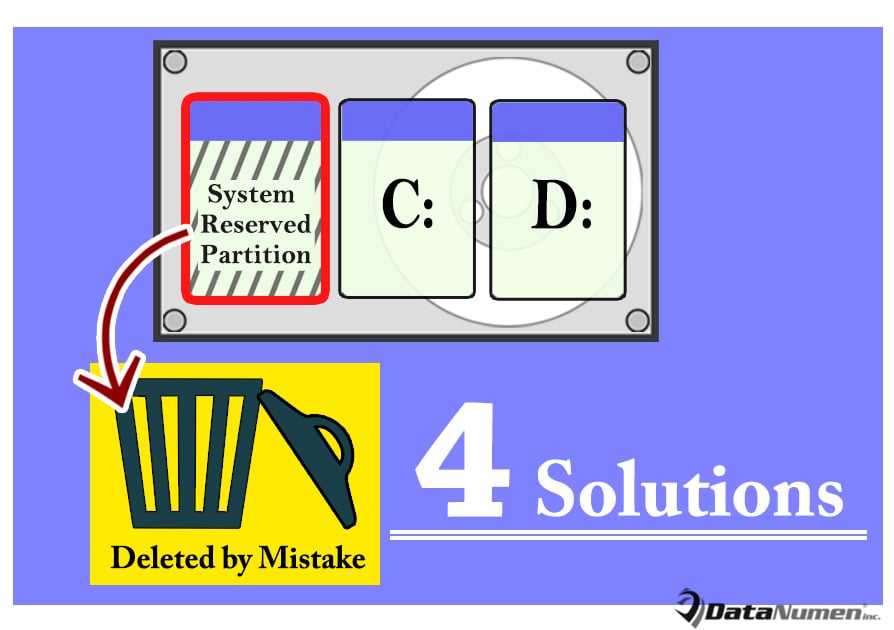 Under this circumstance, users will regret of deleting this partition. In this time, they'll leave no stones unturned to restore the system reserved partition to make Windows to function as normal. Now, thereinafter, we will focus on this problem and provide 4 relevant solutions.
1. Rebuild System Partition
Perhaps you would like to attempt DIY lost partition recovery. Therefore, you can try to rebuild system partition by following the steps below:
Firstly, boot the Windows-based computer via Windows installation media.
Then in the first installation screen, press "Shift + F10" keys, which will bring out the Command Prompt.
Next input "bootrec /fixmbr" and hit "Enter" key.
Later enter "diskpart" and press "Enter".
Then type "select disk 0" and hit "Enter".
Later input "list partition" and tap on "Enter".
Type "select partition n (n is the Windows OS partition)" and press "Enter".
Input "active" and hit "Enter".
Subsequently, input "Exit" and hit "Enter".
After that, type "bootrec /fixboot" and tap on "Enter".
Next input "bootrec /rebuildbcd" and click "Enter".
Ultimately, you can close the Command Prompt and shut down your PC. Then try to boot from the drive that has been repaired just now.
2. Reinstall Windows System
Provided that above means cannot bring your Windows back to function well. If you are not concerned about the computer data in that you have kept recent data backups, you can simply restore Windows via installing Windows system. It can be readily completed with a Windows installation media.
3. Take Aid of Reliable Fix Tool
Assuming that you don't have any effective data backups, re-installing Windows is actually not suggested. In this situation, it is recommended to take recourse to a well quality and experienced fix tool from well-known brand. To be honest, you can find many such tools in today's market. But you should only trust and try the reliable one.
4. Contact Professionals for Help
Maybe you are not confident with your ability of DIY recovery, you are better off asking experts for assistance. For instance, you can recur to the specialized data recovery service or taking your PC to the neighboring computer repair shop. All in all, you should never resort to amateurs.
Author Introduction:
Shirley Zhang is a data recovery expert in DataNumen, Inc., which is the world leader in data recovery technologies, including repair mdf and outlook repair software products. For more information visit www.datanumen.com