When you try to delete or move a folder in Outlook, you may receive the error – "Cannot move the Items. The folder is full." Or when you attempt to rename a folder, this kind of error could pop up as well. This article will tell you how to get rid of it.
Actually "The folder is full" error means that your Outlook file reaches its size limits. Apart from it, file corruption is another important cause. In order to solve this error, you need to make clear the causes. Follow the steps below.
Step 1: Figure out Reasons by Checking the Format and Size of Your Outlook File
To make sure if your Outlook file is in ANSI or Unicode format, you can go to "File" > "Account Settings".
Then in the window of "Account Settings", switch to "Data File" tab, where you can see all your Outlook data.
Next you should double click the target file, which will open a new dialog. In "Format" field, "Outlook Data File" means Unicode format, and "Outlook Data File (97-2002)" refers to ANSI format.
After check the format, click "OK" to close the dialog and back to "Data File" tab. Locate and click "Open File location".
Afterwards a new window will open. Under "Size" column, you can check size of the Outlook file.
Step 2: Take Corresponding Actions Depending on Your Specific Cases
Depending on the different size and format of Outlook file, here are 3 types of measures You can take relevant actions in accordance with your specific cases.
If your Outlook file is in ANSI format and its size is 1.8 GB or so, the file may have reached the maximum size limits of 2 GB. In this situation, you could make use of Outlook free tool – pst2gb to reduce the size.
If your Outlook file is in Unicode format and its size is approximately 4 GB, it is certain that the file reaches the size limit of your disk which is in FAT32 format. Under this circumstance, you need to convert the FAT32 format to NTFS format. Launch "Command Prompt" by searching "cmd" in "Start Menu" and use "convert diskname: /fs:ntfs" command.
If your Outlook file is in Unicode format and its size is about 20 GB or 50 GB, it means the file may reach its default size limits. In this case, there are two alternatives for you. One is changing the default size limits of Outlook file by changing registry key. Another one is to split the file into several small ones, which you can refer to another article – "3 Methods to Split a Large Outlook File into Small Ones".
Step 3: Repair Your Compromised Outlook File
After above steps, if the error persists, or if your case doesn't belong to the above situations, the error may be involved with the corruption of your Outlook file. You need to check error and repair the file then.
Via Inbox Repair Tool
Outlook comes packed with a built-in repair tool. Hence you can use it to have a try. By searching "Scanpst.exe" in File Explorer, you can locate it quickly. In its dialog, click "Browse" to select the file and hit "Start" button to scan the file. In the subsequent screen, click "Repair" button to start repair.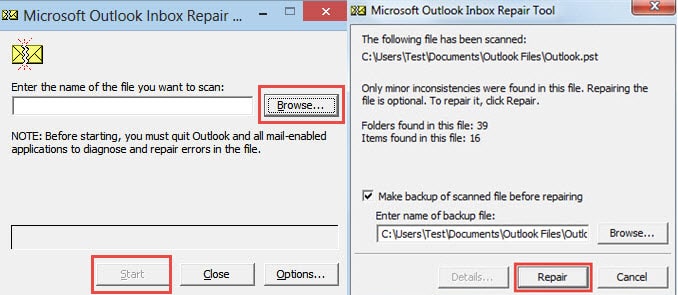 2. Via External Repair Tool
If Outlook fails, you can take aid of external repair tool as well. For instance, DataNumen Outlook Repair is greatly recommended due to its high recovery rate as well as time-saving feature.
Author Introduction:
Shirley Zhang is a data recovery expert in DataNumen, Inc., which is the world leader in data recovery technologies, including sql recovery and outlook repair software products. For more information visit www.datanumen.com