The article sheds light on the security permissions in Microsoft Access and explains the process of assigning permissions
While working on MS Access, users sometimes feel the need to assign certain permissions to the objects in order to perform certain tasks. Many users don't wish to assign all the permissions to their objects so they remove some.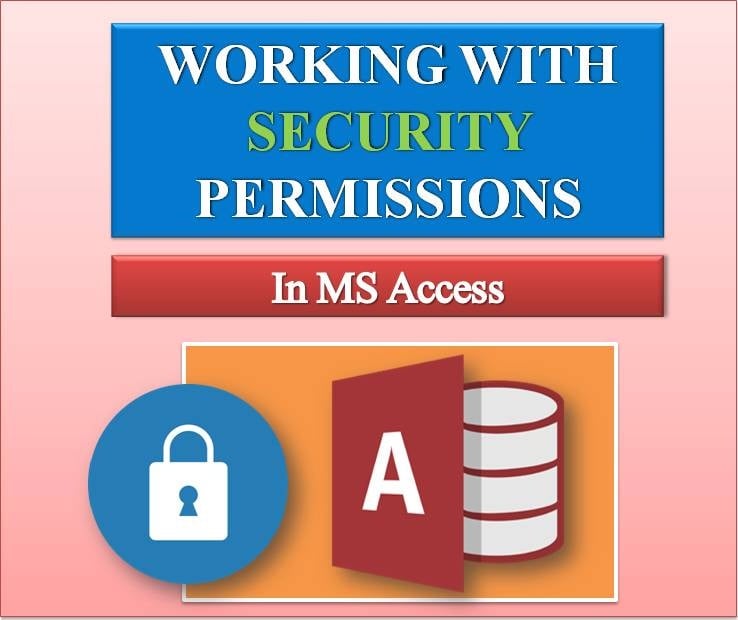 MS Access provides its users the options of assigning and removing permissions for databases along with existing tables, forms, macros, reports and queries for security purposes.
Users can choose to assign permission to other users or groups at any time, given that the workgroup information file should contain those user accounts for which permissions are to be assigned. Users can follow this simple procedure to assign permission.
Step 1
Click on the 'Tools' option and select 'User and Group permission' from the dropdown menu of Security.
Step 2
You can easily find the option of 'Users or Groups' under Permissions tab. Upon clicking, it will show you all the users and groups name in the User/Group name box from which you can select any name or group for which you want to assign permissions.
Step 3
In the Object Name box, you can select the type of Object from OBJECT TYPE box along with its name for assigning permissions. You can either select one object or multiple objects from the Object name box. To select multiple objects, you can press CTRL key and then click on objects or you could simply drag down the mouse over the objects.
Step 4
Once the objects are selected you can assign the permissions or even remove them as per your preference. You just need to select 'Permissions' and then click apply. There would be many permissions in the list, like Read data or Read Design permission, from which you can select those you want to assign to the group or some user. The procedure for removing permissions is also similar.
Step 5
If there are additional users or groups, then you can follow the steps from 2 to 4 to assign preferences to them.
Important Points
It should be noted that in MS Access, some of the permissions by default signify the selection of other objects. If you assign Modify Data Permission to a table, other permissions like Read Data and Read design are also assigned automatically.
If you have made changes or edits in the object and then saved it, then it won't alter the assigned permissions. You have to go through all the steps again if you wish to change those properties.
However, if you choose 'Save as' instead of 'Save' to store the object at different location, in that case the assigned properties won't be retained and you might have to re-assign them. The same thing is applicable if you cut and paste or import or export the object/s, the assigned properties are by default lost. The reason for such loss is simple because in the latter cases, you are creating a new one and not modifying the older version, so the newer ones get by default properties.
While working on Access databases one needs to remain prepared for incidents of Access corruption or even database crashes. One of the best ways to do so involves investing in a powerful recovery tool like DataNumen Access Repair.
Author Introduction:
Vivian Stevens is a data recovery expert in DataNumen, Inc., which is the world leader in data recovery technologies, including corrupted sql and excel recovery software products. For more information visit www.datanumen.com