Excel has many features that can help you finish many tiring tasks. And the feature of sort can help you quickly find certain values in a bunch of numbers. But today we will introduce how to sort data by rows instead of columns.
The sort feature is a very useful feature in Excel. Thus, most of you have used this function to sort certain columns. However, the default setting of sort can only take effect in columns. Thus, if you want to sort values in rows, you need to set before you use this feature. And the following are steps of how to set data by rows.
Sort Values by Rows
In this image, you can see that there are many employees and their sales volume.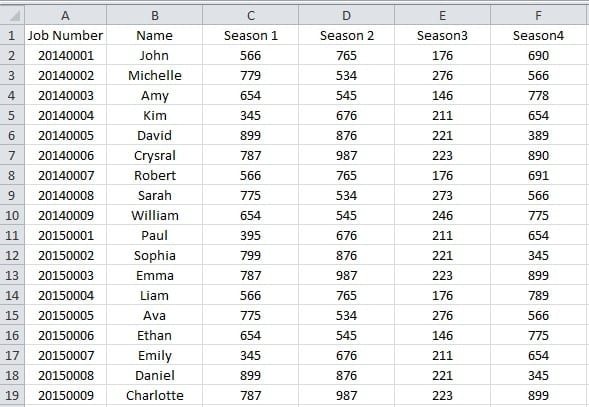 And now you want to know in which season they have the best sales volume. Thus, you can adjust your business strategies according to the statistics. But you need to sort values of rows. So you can follow the steps.
Select the area where you want to sort values.
Click the button "Sort & Filter" in the ribbon. And then you will see a new menu pop up.
In the menu, click the option "Custom Sort". And the new window will pop up.
In this window, click the "Options".
Now you will see another new window. Choose the second option "Sort left to right".
Click "OK".
In the "Sort" window, choose the row which you want to sort values. And here we choose row 2. You can also choose according to your need.
In the order option, you can choose "Smallest to Largest" or the other direction. And this is also based on your need.
Now click "OK". Thus, the sales volume will change the order according to the setting.
You will see that the seasons order also change. And in this worksheet, John did best in Season 2. Therefore, you can continue using this method to know the volume about other employees. With this tip, you will have no worry about a transposed worksheet.
How to Protect your Excel Files
Excel files can be easily damaged if your computer is attacked by malicious virus or malware. And of course you need to take measures to protect your Excel files. Except for installing antivirus software, you should also take regular backups about your files in case some accidents happen. But once your files corrupted, you should try to repair Excel. In addition, a third party tool can be a good helper for you. With this power tool at hand, you can easily retrieve your data and information.
Author Introduction:
Anna Ma is a data recovery expert in DataNumen, Inc., which is the world leader in data recovery technologies, including word recovery and outlook repair software products. For more information visit www.datanumen.com