If you open an attached email, you would find the send button is grayed out. Do you know why? How can you deal with this issue?
When it comes to attachments, pictures, documents and zip files will occur to our mind in the first place. While we need to note that emails, irrespective of draft, received or sent emails, can be attached to a new message as well.
In attempt to forward several emails, we can treat these emails as attachments to a new message and then forward it. Undoubtedly, the recipient will get only one message attached with many emails. It is convenient for both senders and recipients. I have ever received this kind of message, which is attached with another email. After received it, I just opened it to do a further revision. Later I attempted to send the revised  emails back. I found that the send button is grayed out. It meant that I couldn't send it.
Why Send Button Is Inactive in an Attached Email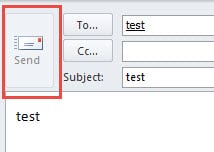 Actually email attachment is usually opened as Read-Only in message. Hence we can't send or forward it directly in the received email. In order to send it, we need save it to an email folder at first. It can be achieved by dragging and dropping. We should locate the attached email in the reading pane. Then click it and hold the mouse, dropping it to the target email folder. Later we can open it from the folder and send it out successfully.
Method to Resend an Attached Email
Another way is to send it by "Forward" button. Therefore, to start with we should add "Forward" to Quick Access Toolbar.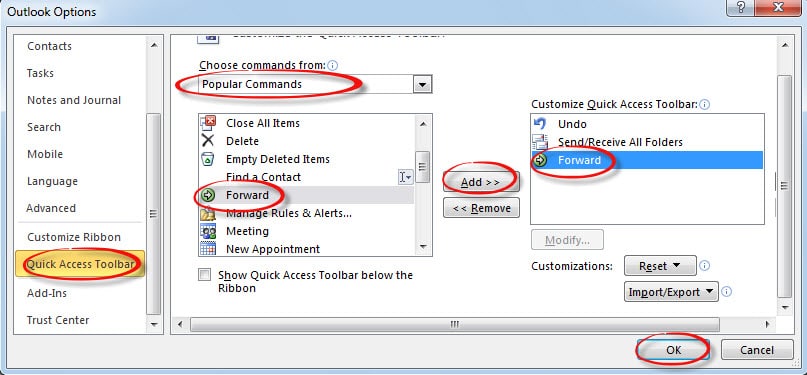 At the very outset, go to "File" menu and select "Options". Then in "Outlook Options" window, we should switch to "Quick Access Toolbar".
Next in "Popular Command" field, choose "Forward" item and click "Add" button in center, adding it to the Quick Access Toolbar. Finally click "OK" to save it.
After back to the opened  email, we can click the "Forward" button in Quick Access Toolbar instead of Send button.
What Should You Do after Outlook Corruptions
If you've utilized Outlook program, you would discover that it is vulnerable to damage. Therefore, if possible, you are better off making a backup on a regular basis, no matter through Outlook auto-archive or external drive. Furthermore, a potent Outlook recovery tool is a matter of necessity. DataNumen Outlook Repair is certainly a good suggestion for you. It can help you scan and recover compromised PST files within a few minutes.
Author Introduction:
Shirley Zhang is a data recovery expert in DataNumen, Inc., which is the world leader in data recovery technologies, including sql recovery and outlook repair software products. For more information visit www.datanumen.com