In this article we look at the option of printing mailing labels right out of an Ms Access Database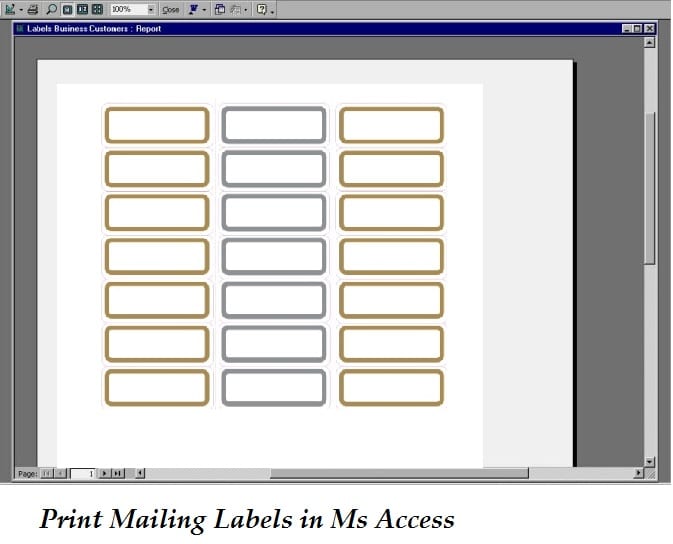 Creating mailing labels using data contained in Access database tables is one of the most common requirements expressed by several MS Access users. The good news is that you can simply use the Label Wizard, which is a built-in feature in MS Access for creating and printing mailing labels. The Wizard not only allows you to select data from the databases to be printed on labels but also allows for printing and creating labels as reports, which are small enough to fit in the size of the label. To be able to use data from Access tables, for creating labels, you first need to ensure that the data is formatted to fit in a label.
Label Wizard also allows you to use data from other MS Office applications and use them for printing on mailing labels created using MS Access. Although a label can be created for multiple purposes, one of the most common purpose of creating a label is – for mailing. When you create mailing labels using Access, at the time of printing the report, it will automatically collect address data from the table and create a label appropriate for all addresses.
Key Steps to Follow for Printing Mailing Labels in Ms Access
Open the database containing address data you want in your mailing labels.
Select the table, query, report from the navigation pane, that contains the data you want to be included in the labels.
Go to Create Tab and select Label Button in Report group.
The Label Wizard will open, select the type of label you want to print. Proceed by clicking on Next.
Make all the cosmetic changes for your labels, font size, color, weight etc. Proceed by clicking on Next.
Use the '>' symbol to select fields you want to include in the prototype label. Proceed by clicking on Next.
Title the report you have created, click Finish to end.
The created label report will show on the screen, preview it to make any last minute changes if required.
If you get satisfactory results from the appearing report, load labels in the printer and print report.
You can sort your labels using the ZIP code, to meet regulations of bulk postal mailings. If you face problems in selecting the best label format for mailing labels, you can make use of your label package. This package can help you give instructions on the most appropriate type of labels.
Creating labels using Access is a very simple task, especially if you make use of the Label Wizard. This application is full of multiple and extremely useful features, that can help any given organization to work efficiently with minimum resources. For creating labels in Access you need nothing but a database with address data.
Ms Access Databases Tend to Get Corrupted over Time
As more and more data makes its way into the Access database, the underlying file may get corrupted. To deal with such a situation, you should keep a sophisticated mdb recovery software around. Further you should ensure that database best practices for using Ms Access databases including keeping periodic backups are communicated to all users.
Author Introduction:
Vivian Stevens is a data recovery expert in DataNumen, Inc., which is the world leader in data recovery technologies, including repair mdf file damage and excel recovery software products. For more information visit www.datanumen.com