By default, Outlook will print out calendar in the default time range – between 7 a.m. and 7 p.m. In other words, Outlook won't print the appointments outside the time range. But you can change the time range as per your needs. This article will introduce the elaborate steps.
For some reasons, in the recent weeks, I have to attend several meetings held in late evenings. In order to check my schedule more conveniently, I wish to print them out in paper. But I find that Outlook cannot print these meetings out. After some research, I realize, the default printing time range is to blame. So I change it at once. Here are my detailed operations.
Print Outlook Calendar in a Specified Time Range
At the beginning, you should open Outlook application.
Then in the Outlook main window, commonly Mail pane, you ought to switch to Calendar pane firstly. Click on "calendar" icon in navigation pane or press "Ctrl + 2" keyboard shortcuts.
After that, you should head to "File" menu and shift to "Print" tab.
In the right pane of "Print", you need to select a calendar print style. Note that only two print styles support changing time range. They are "Daily Style" and "Weekly Calendar Style". Now I will take "Daily Style" as an instance.
After selecting "Daily Style", you can hit "Print Options" button located above.'
Next a new dialog box of "Print" will pop up. In "Print Style" part, you should ensure "Daily Style" is highlighted, and then click on "Define Style" button.
In the subsequent small dialog box, pitch on "Daily Style" and press "Edit" button.
Later the interface of "Page Setup: Daily Style" will arise. Under "Format" tab, you will be able to find the printing time range in the section of "Options". As you see, the default printing start time is 7 a.m., and the due time is 7 p.m. Now you can change it tailored to your needs.
Finally after customizing the printing time range, you could click "OK" to save the changes. And click "Close" button to exit "Define Print Style" dialog box. When you get back to "Print" dialog box, you can press "Preview" to review it, or press "Print" button directly.
Note: If you wish to change the printing time range back to original settings, you can access to "Define Print Style" dialog. In it, highlight the target print style and hit "Reset" button.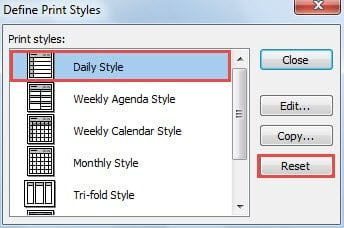 Effective Relief Measures in the Event of Outlook Crashes
Despite the fact that Outlook is feature rich, it still cannot be immune to crashes. For common users, the most vexing matters in deal with Outlook are constant errors. Actually most of errors can be resolved easily. But if encountering Outlook crashes, it will be much more troublesome. Here are some suggestions on relief measures when Outlook crashes. Firstly, if you have regular backups, you can try to restore from backups. But if no backups, you can apply the built-in repair tool, namely Inbox Repair Tool – Scanpst.exe. Nevertheless, provided both of them fail, you have to procure a robust third party tool, like DataNumen Outlook Repair, which can repair PST file in quick time and without breaking a sweat.
Author Introduction:
Shirley Zhang is a data recovery expert in DataNumen, Inc., which is the world leader in data recovery technologies, including sql recovery and outlook repair software products. For more information visit www.datanumen.com