Some people complain that they've added several new folders to Favorites part, but when starting Outlook next time, they disappear. This article will troubleshoot this issue thoroughly.
Since I knew how to add custom folders to Favorites section, I have added several ones to it. But one day I started my Outlook and discovered that they all got deleted. I re-added them, restarted Outlook and met the same situation. Thus I searched a lot on Internet. Here are my solutions for your reference if you're going through the same issue.
Reset the Navigation Pane
In the first place, you should attempt to reset navigation pane, which may be able to bring back several folders that you add to the navigation pane. Close Outlook program and head to start menu. Then enter "outlook.exe /resetnavpane" in the search field. Immediately you will see the corresponding program. Click it. Finally you can restart Outlook to verify if the vanished Favorites folders come back. If not, you should analyze and solve this issue from other aspects.

Stop Improper Outlook Shutdown
Virtually improper Outlook shutdown can lead to various annoying issues, such as corrupted mail profile, autocomplete cache and even damaged Outlook data file, etc. Of course, disappeared Favorites folder can be caused as well. In this case, we should find out the roots that results in improper Outlook shutdown issue. Apart from force majeure like abrupt power outage, here are two more primary reasons.
1. Caused by Faulty Add-ins
In order to figure out if the add-ins is to blame, you should try to disable them one by one at a time to test. Go to "File" menu in Outlook and select "Options". Then in Outlook Options, switch to "Add-ins" tab, under which you should click "Go" button. In the final dialog box, you can disable the add-ins.
2. Caused by External Software
Another main reason is the external software, such as Synchronization, antivirus and anti-spam software and so on. These programs have been integrated with Outlook, and at times the integrations are not shown as add-ins. In such scenario, you need to enter the program itself and disable the integration in itself.
Through the above methods, you can try to create a Favorites folder in Outlook and restart Outlook to see if the issue persists or not. There are great chances that the issue will be vanished into air. But if unfortunately, it's not solved, you have to turn to the other methods.
Create a New Mail Profile
If resetting navigation pane and fixing improper Outlook shutdown cannot troubleshoot this issue, there is a possibility that the mail profile is corrupted. Then you should go to Control Pane and create a new mail profile.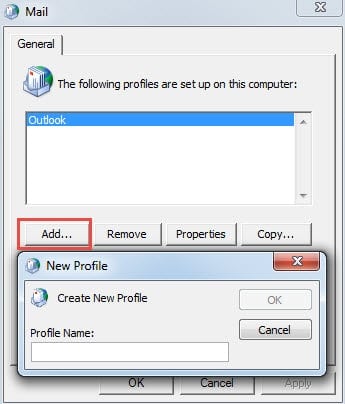 Repair Outlook Data File
Like the vanished Favorites folders, Outlook errors will occur from time to time. In worse situation, even Outlook crashes will happen, which will damage the Outlook data file. At that time, it is imperative to opt for a reliable repair tool, like DataNumen Outlook Repair. It can recover Outlook data with minimized loss and corruption.
Author Introduction:
Shirley Zhang is a data recovery expert in DataNumen, Inc., which is the world leader in data recovery technologies, including sql recovery and outlook repair software products. For more information visit www.datanumen.com