With business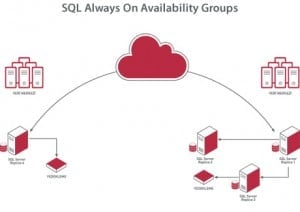 becoming increasingly competitive, even the shortest of the downtimes can prove risky for the reputation of an organization. Hence from a perspective of business continuity and data recovery, SQL Server administrators have for years relied on disk mirroring to keep things going in case of a fault. However mirroring has several limitations and this had lead Microsoft to roll out AlwaysOn availability groups from its 2012 SQL Server iteration which offers a whole deal of reliability and can be the cornerstone of your business continuity plan.
Key Advantages of AlwaysOn availability groups
One of the most striking facets of AlwaysOn availability groups is its capacity to include multiple user databases at the same time into a solitary failover unit. This is drastically different from mirroring which could only handle a single user database in one distinct failover unit. Complex line of business application that tap into multiple databases can now be run assuredly on SQL Server while the same was not possible with mirroring.
The amalgamation of high availability and disaster recovery in a single framework now makes SQL server one of the most reliable solutions in its class. The framework allows for both encryption and compression of data and also facilitates a highly malleable failover policy. Up to 9 availability replicas are seamlessly supported and it is possible to opt for both synchronous and asynchronous commit modes. In other words when you are not forced to choose a specific commit mode, the AlwaysOn availability groups can offer you robustness to deal with high availability scenario while offering you the flexibility to tackle a recovery scenario where servers are remotely located. Another key feature that seems to go in favor of this technology is the capacity of replicate databases to facilitate read only access which makes it possible for them to be used for multiple purposes at the same time. Basically you can take advantage of this feature to use a replica for backup while simultaneously utilizing it for reporting. This way you retain the choice to move workload from the primary server if needed at any point of time.
Remain Prepared for the Worst case situation by investing in a recovery tool
While AlwaysOn availability goes a long way in ensuring your data remains secure and accessible as far as possible, there is still a margin of error. Hence for the sake of critical business data stored in your SQL Server, it makes great sense for you to keep a
potent  sql recovery tool like the sophisticated DataNumen SQL Recovery in the vicinity. In the event of a SQL corruption, the application can jump to your rescue and get back the compromised data within minutes. It also is highly suited to extract SQL contents from virtual disk drives, optical media discs and even solid state devices. Last but not the least the tool can serve as a failsafe against accidental deletion of data records.
Author Introduction:
Alan Chen is President & Chairman of DataNumen, Inc., which is the world leader in data recovery technologies, including access recovery and sql recovery software products. For more information visit https://www.datanumen.com/