Here we attempt to understand ways of dealing with Type Mismatch Error in Access in Quick time.
One of the best thing about using advanced application is that they catch hold of all minor mistakes made by the user as well. So, even if you mistakenly missed out on something, the application will help you correct it. Out of the multiple unintended errors, you may witness when using MS Access a key one is field type mismatch error. Although understanding the error is not very complex, as it is pretty much self-explanatory. But in case you are still unsure of what it means, continue reading.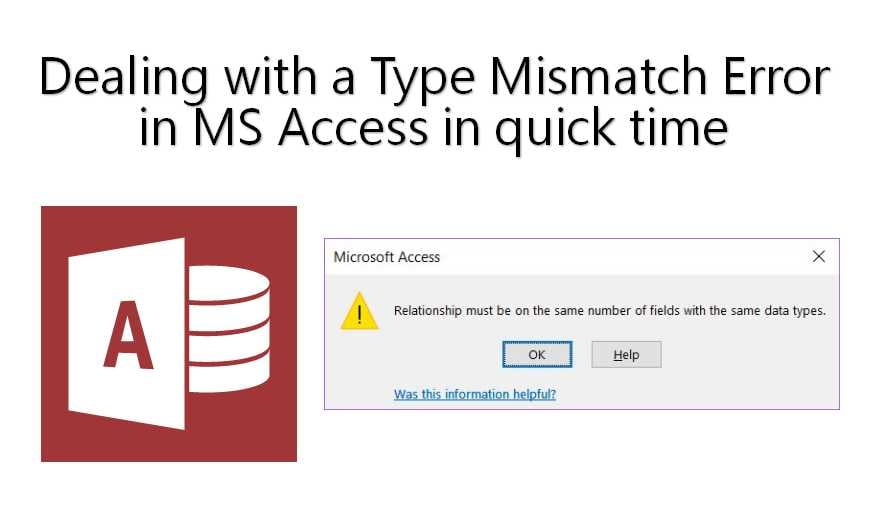 Type Mismatch Error in MS Access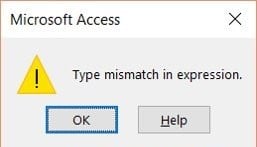 In an Access database, we have several tables and might want to connect any two given tables at any point. But there can be occasions when you come across this error or the one very similar to this when trying to build relationships among tables with different data types. This error might also appear when you are trying to run a query to get some results. Dealing with this error is easy and does not involve any complex logic or understanding.
We will begin with first understanding the cause of this error. As much as you want to establish relationships within tables through the relationship window, you will not be able to do it if you have different data types selected for those tables. You can try giving same names to the tables or storing similar data in them, but till their data type does not match, the error will keep on appearing. And you will not be able to establish any relationship. So now what do we do?
Dealing with Type Mismatch Error
Solving this problem becomes a little easier if the field you want to link is the primary key in any of the given tables. As this allows you to use it as model data type. Depending on the data type of the primary key field, you can update the data type in another field. If you have the rights to make changes in the data types of the field, then your problem is solved. But if you have insufficient rights and are not able to change the data type of another field, then the challenge is even bigger for you. Because now you first need to get enough permissions to be able to solve the error.
Crucial Tips
For all the errors that you might come across in MS Access, there is always a solution available to you, provided you look closely. Always make sure to not panic and give it a patient look. If you start freaking out over minor errors that occur frequently in the application, you would end up doing your system and databases more harm than the error itself. And if you feel that there is anything you are not able to tackle by yourself, you can always take help of experts and their services. This would not only solve your problem but would also give you an idea for whom to seek in case there is a similar problem in future. Also keep a tool that can repair mdb or accdb database files is also a good habit for all Access users.
Author Introduction:
Vivian Stevens is a data recovery expert in DataNumen, Inc., which is the world leader in data recovery technologies, including mdf fix and excel recovery software products. For more information visit www.datanumen.com