Outlook will remember your recently-used locations for appointments. But you're not allowed to manage the location list at will. So at times, the list will be filled with needless ones. This article will introduce how to clean up the list.
When you create a new Outlook appointment, you can select one location from the drop down list, which will be populated with your recently-used locations. By default, Outlook can remember only the last 10 locations. In other words, when you add new locations, the older ones will be forced to drop off the list. You cannot control it to only list your preferred locations. Therefore, if the location drop down list is stuffed with useless choices, you may hope to clear and reset it. In response to this issue, here is a quick and simple method to accomplish it.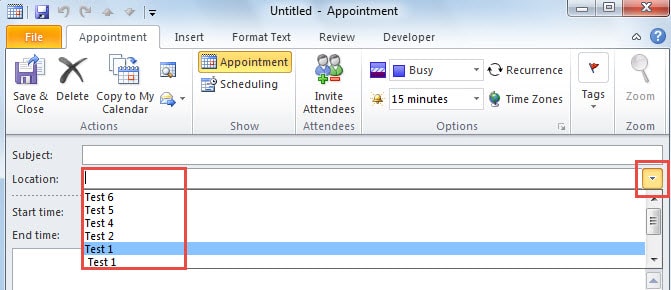 Edit a Registry Value to Clear the Recently Used Location List
At the very beginning, close Outlook program and go to "Start Menu".
In the search box, type "regedit" and press "Enter" key button.
After that, in the new popup dialog box of "User Account Control", click "Yes" button.
Next you will get into Registry Editor Window successfully. Now you ought to browse to the following registry keys: "HKEY_CURRENT_USER" > "Software" > "Microsoft" > "Office" > "14.0" > "Outlook" > "Preferences".
Later locate and pitch on "LocationMRU" value in the right pane. Right click on it and choose "Delete" from the context menu.
After deleting it, you can exit Registry Editor normally by clicking "X" icon in the top right corner.
Finally you can restart Outlook program and try to create a new appointment item. When you click the down arrow at the end of "Location" line, no related location available.
The next time when you input a new location in the appointment, Outlook will automatically add "LocationMRU" value into the registry and write the new value data for it.
Important Note: You had better prepare a backup of your Registry before making changing. Otherwise, once you change or delete any keys or values in error, your computer will malfunction without remedies.
Troubleshoot Outlook Problems
It is considerably common to encounter issues in Outlook. Hence, you had better learn some tips to cope with Outlook troubles. Firstly, a regular backup is more than necessity. Secondly, you can disable all third party add-ins, which can make Outlook malfunction. Thirdly, the Outlook inbox repair tool, Scanpst.exe can help you address some small errors. If all the above tricks fail, your last resort must be a stellar external tool, like DataNumen Outlook Repair, which can repair Outlook file error in quick time.
Author Introduction:
Shirley Zhang is a data recovery expert in DataNumen, Inc., which is the world leader in data recovery technologies, including repair SQL Server file and outlook repair software products. For more information visit www.datanumen.com