If you only want to export selected Outlook emails to an external file, using "Import and Export" feature will be quite troublesome. This article will guide you to quickly export the multiple selected emails to a Text, Excel or PST file.
In general, when you would like to export Outlook items to an external file, the "Import and Export" feature will come to your mind in the first place. You can go to "File" menu, find and click "Import" button under "Open" tab. Then in the new "Import and Export Wizard" window, there is an "Export to a file" feature, shown as the following screenshot.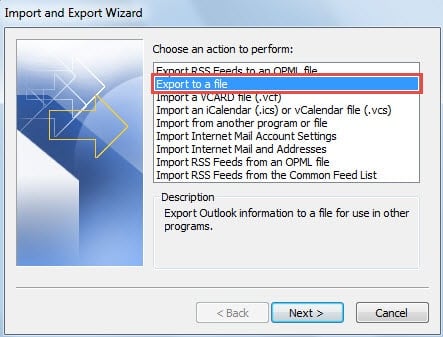 This feature indeed helps us a lot when we want to export a myriad of Outlook items. However, if you may only wish to export some items, such as some selected emails. In such a case, using this function will be cumbersome due to complex and tedious steps. Actually it is more advisable to use the following methods.
Batch Export to a Text File
For a start, select the multiple source emails which you desire to export.
Then head to "File" menu and select "Save As" option.
Subsequently in the new "Save As" dialog box, first select the destination, and then specify a name for this file and next set "Save as type" to "Text Only", and lastly click on "Save" button.
Eventually you can turn to the destination folder and find a text file. After opening it, you will find that all the selected emails have been included in one file.
Note: The contents of the selected emails will be concatenated without any delimitation.
Batch Export to an Excel File
To begin with, select all of your desired emails.
Then press "Ctrl + C" key buttons to copy them.
Next open a new Excel file and select a cell, such as Cell A1.
After that, press "Ctrl + V" to paste the previously copied emails.
Ultimately you can save the current Excel file as usual.
Note: Only the columns in the mail folder will be exported to Excel worksheet. Normally the email body will not be exported.
Batch Export to a PST File  
Method 1: Directly Copy to a PST File
At first, you should show a PST file in mail navigation pane.
If you want to export the multiple selected emails to a new outlook file, you should create a new Outlook data file by "New Items" > "More Items" > "Outlook Data File".
Or if you want to export them to an existing PST file, you should go to "File" > "Open" > "Open Outlook Data File" to open it firstly.
Then locate and select all of your wanted emails which you want to export. Right click on them and select "Move" > "Copy to Folder".
Next in the new "Copy Items" dialog box, create a new folder under the new Data file and press two "OK" to complete the copying.
Now you've get a PST file which contains your desired emails.
Method 2:  Archive to a PST File
At the very outset, select the multiple needed emails and right click on them.
Then from the right clicking menu, select "Move" > "Copy to Folder".
Next in the new "Copy Items" dialog box, create a new mail folder to save the copied emails.
After clicking several "OK", the items will be copied in success.
Later go to "File" menu, hit "Cleanup Tools" button and select "Archive".
In the "Archive" dialog box, select the source mail folder, type "Tomorrow" in "Archive items older than:" field. Then click "Browse" button to select a PST file.
After clicking "OK", you will receive a prompt. You can just select "Yes".
Finally the emails will be exported to the selected PST file at once.
Comparison of the Above Methods
Methods
Advantages
Disadvantages
Batch Export to a Text File
It is easy to operate.
All the details of the selected emails are exported into one Text file. The emails may be confusing due to no clear delimitation.
Batch Export to an Excel File
It is also simple.
This method can only extract email list and cannot export the email bodies.
Batch Export to a PST File
Method 1
It is much easier than Method 2.
You have to first create a new Outlook file or open an existing Outlook file, displaying them in navigation pane.
Method 2
You don't need to open the Outlook file in advance.
It is more complex and tedious than the Method 1.
Respond to Outlook Errors
It is known that Outlook is error prone. Thereby, you should keep calm when you encounter them. Only a level head can help you get rid of these vexing issues. In general, you can restart the Outlook application in safe mode. If error persists, it is very likely that you're confronted with Outlook PST error. In this scenario, you can resort to the built-in repair tool, scanpst.exe.
Author Introduction:
Shirley Zhang is a data recovery expert in DataNumen, Inc., which is the world leader in data recovery technologies, including repair corrupt SQL Server file and outlook repair software products. For more information visit www.datanumen.com