To be honest, it is difficult to predict and prevent natural disasters, such as flood, hurricane, and earthquake and so on. In those cases, what we can do is to try best to protect our vital assets, like our computers with internal data. In this post, we will teach you 8 useful tips to safeguard your PC from natural disasters.
In recent years, natural disasters appear to be on the rise. Regardless of its root causes, as a common user, what we have to do is to shield our treasures from the natural disasters. The so-called treasures not only refer to the money, but also the precious data, no matter personal data or business data.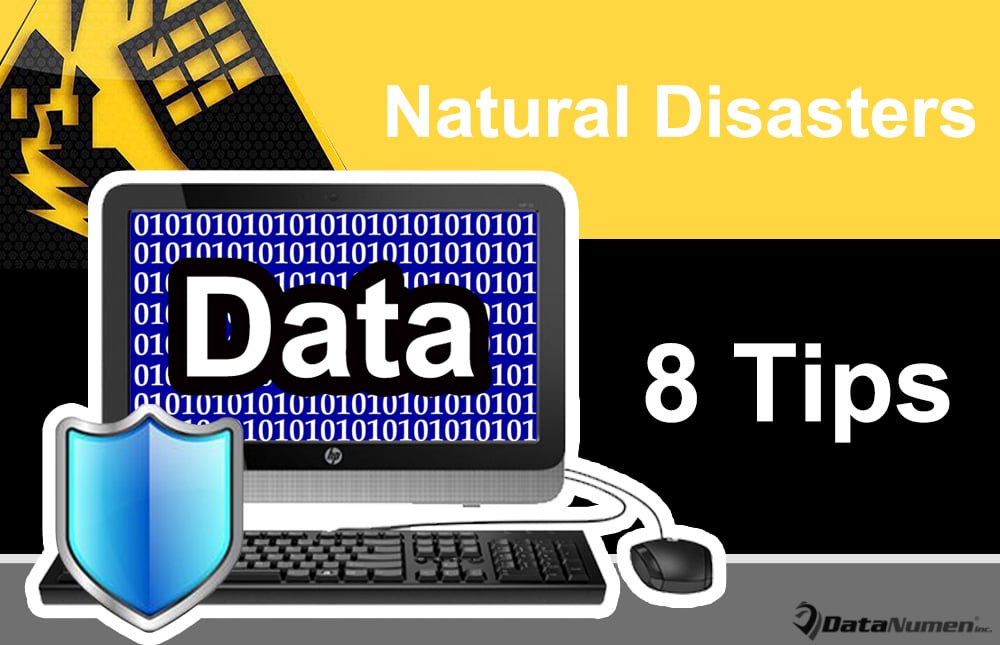 Unquestionably, no one is ready to encounter data loss in that data recovery like Outlook recovery would be quite difficult. Therefore, to avert data loss in natural disasters, you have to preserve your computer data. Now, thereinafter, we will share you 8 effective tips.
1. Equip Computer with a UPS
In most natural disasters such as lightning storms, computer can be powered off suddenly, which will be considerably harmful to the computer hardware and lead to data loss in a jiffy. Hence, you should invest in an uninterruptible power supply (UPS), which can keep your PC running for several minutes even losing power. At that point, you can save your files and shut down your PC properly.
2. Store Data on a Separate Drive
For regular users, they will store everything on a single hard drive. Actually, you'd better install a second hard drive on your computer. Then, you should install the system on the first drive and save data on the second drive separately. In this way, data will be exempt from the system problems. Plus, you can remove the second drive at will from the PC and use it on another computer.
3. Know to Remove a Hard Drive
Provided that you've followed the above tip, namely using several hard drives on one PC, you are required to learn how to remove hard drive. Thus, you'll be able to take the hard drive with you when evacuating the disaster site before the next potential calamity strikes. Otherwise, to protect your data, you may need to carry the whole computer with you when leaving, which sounds impossible.
4. Put Your Computer to Higher Ground
Furthermore, to protect your computer from water damage in a flood, you should put your PC on a higher ground. In a flood, the most water will be on the floor. So, if you move your PC to the higher ground, such as the top of a desk, it can escape from the flood temporarily. At that time, you'll have enough buffer time to move your computer from the disaster site.
5. Make Offsite Backups
Of course, when it comes to data protection, it's inevitable to think of data backup. The best solution to block the data loss from natural disasters is to make offsite backups. For example, if you have backed up your computer data on an external hard drive, you ought to position the drive in a location far away from where the computer stays. By this means, even your computer gets damaged or stolen, you still have offsite backups.
6. Move Data to the Cloud
Aside from the above solution, you can select to move your data to the cloud. For instance, you can store your files in Google Drive, such that you have cut the ties between your data and the computer. Even though natural disasters occur to the computer location, your data will be safe.
7. Develop Emergency Plan
What's more, it is highly recommended to develop an effective emergency plan. Many businesses and users neglect this aspect. Actually, it is blazing significant in that it can help you to minimize the damage from natural disasters and recover computer data with effortless ease.
8. Keep Prepared for Disaster
Last but not least, you should remain well-prepared for natural disasters. That is to say, you should keep the awareness of protecting computer data in your mind all the time. More specifically, you need to persist in the tips mentioned above.
Author Introduction:
Shirley Zhang is a data recovery expert in DataNumen, Inc., which is the world leader in data recovery technologies, including sql corruption and outlook repair software products. For more information visit www.datanumen.com