When you try to open another Outlook file, you receive the error "You don't have appropriate permission to perform this operation". In this case, you can utilize the following 7 ways to get rid of it.
On one occasion, I would like to open my archived PST file. Thus I just click "Open Outlook Data File" button on "Open" tab to open it as usual. However, I got the error message that I have no permission. If you have the similar experiences, you can refer to my solutions shown as below.
1. Run Outlook as Administrator
Before taking other measures, you should try to run Outlook as administrator.
Close Outlook application and go to Start Menu.
Then enter "Outlook.exe" in search field. Next the Outlook program will arise.
You can right click it and select "Run as Administrator" option from the context menu. If you cannot find the option, press "Ctrl + Shift + Alt" and right click it. You can absolutely see it.
After running as admin, you can try to open the Outlook data file again. If the error persists, you should attempt other methods.
2. Repair Office
Corrupt Office can lead to the issue as well. So you should attempt to repair MS Office as well.
Close all Office applications and go to Start Menu.
Then enter "Control Panel", in which you should click "Uninstall a program" link.
In the subsequent screen, you can locate the MS Office program. Right click it and select "Change" option.
Next a new window will arise. You should select "repair" option and click "Continue".
After repairing, you can try again to check if the problem has been solved. If not, turn to other techniques then.
3. Create a New Outlook Profile
Compromised profile may be one of the common causes. Hence you must try to create a new Outlook Profile.
Still go to "Control Panel". Select "Mail" icon.
Click "Show Profiles" in the new dialog box.
In the subsequent screen, click "Add" button and then follow the instructions to set up email accounts.
Finally try again, if the error still pops up, you should resort to the following approaches.
4. Verify If the Outlook File Is in Read Only Status
Apart from the above the fundamental ways, you would be required to check whether the Outlook file is in read only status. If so, you can certainly have no permission to access it.
Find the Outlook file in Windows Explorer.
Then right click it and select "Properties" from the right click menu.
Next under "General" tab, locate "Attributes" label and check if the "Read only" is selected or not. If selected, please unselect it.
5. Change the Key Value in Registry Editor
Virtually the incorrect registry key value will also result in "no permissions" error. Depending on your specific case, you need to change the key value shown as followings.
Go to "Start Menu" and type "Regedit" in search folder and press "Enter" into Registry Editor.
Then you should locate the following registry key:
HKEY_CURRENT_USER -> Software -> Microsoft -> Windows -> CurrentVersion -> Explorer -> User Shell Folders -> Personal
Then double click the "Personal" key and change the key value to your C disk.
Finally click "OK" to save it.
6. Repair the Outlook File by Scanpst.exe
Provided that the above methods can get the problem away, there is a great chance that the Outlook File is corrupt. In such a scenario, you should repair it. Fortunately, Outlook comes loaded with an inbox repair tool called Scanpst.exe. You can search and find it in Windows Explorer. It can solve a few of Outlook errors.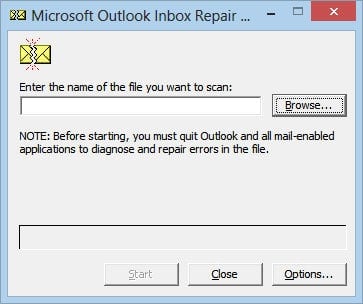 7. Utilize Other Software
Although Scanpst.exe is free, it cannot make influences in most situations. Therefore, if Scanpst.exe fails in repairing the file, you are capable of utilizing other software such as DataNumen Outlook Repair. It can scan and find out the internal errors of PST file and fix them in a breeze. Furthermore, due to its high recovery rate, it has been way ahead of its peers.
Author Introduction:
Shirley Zhang is a data recovery expert in DataNumen, Inc., which is the world leader in data recovery technologies, including sql recovery and outlook repair software products. For more information visit www.datanumen.com