To send a file, we always create a new email manually and then insert it as email attachment. Virtually there is a good method to send the file via one right click only, which will create a new message automatically.
As a regular user of Outlook for a long time, I have discovered its several hidden functions. For instance, in the past, when I need to send a file to others, I used to open Outlook, create a new email, click "Attach file" to select and add the file. I will spend a lot of time to find the file then. After a certain time, I found the quick method, namely utilizing "Send to" right click option.
Send to Mail Recipient
The existing method to send a file as email attachment is through "Send to Mail Recipient". You can just locate and right click the file in Explorer. In the context menu, you should select "Send to", and then choose "Mail Recipient" option. Next New Message window will open automatically. The file is in "attachment" field.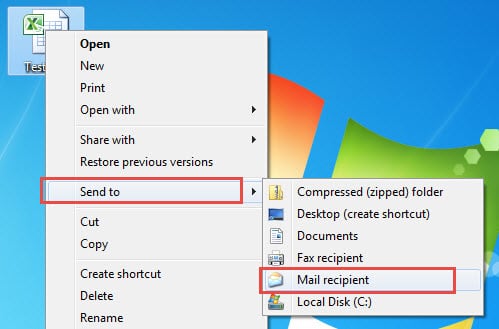 There is no doubt that this is the fastest approach. However, it has assorted limitations. For example, in the popup New Message window, you can find that the message format is changed into Plain Text format, not the default format. Besides, the signature that you have applied to all messages doesn't arise. Therefore, I recommend another method here. That is to add a new Outlook shortcut to "Send to" folder.
Add a New Outlook Shortcut to "Send to" Folder
For a start, head to "Start Menu" and enter "Outlook.exe" in search field.
Then right click the shown "Outlook" program and choose "Send to Desktop (create shortcut)" option.
Back to the Desktop. Right click the new shortcut and choose "Properties" from the context menu.
In the new dialog box, you can assign a name to the shortcut under "General" tab, such as "New Email".
Switch to "Shortcut" tab. You can locate the target field that contains the path of Outlook.exe. Press a spacebar at the end of the path, and next type /a.
Click "OK" to save the changes.
Utilize a hotkey of "Ctrl + X" to cut the new shortcut.
Next open your Windows Explorer. Select the whole "Computer". And type "shell:sendto" into the address bar. And press "Enter".
In the subsequent screen, you can see all the shortcuts in the "Send to" folder. You can press "Ctrl + V" to paste the new shortcut of "New Email".
Finally you can close the Explorer.
After finishing the above steps, you can attempt to right click a file. You can surly discover the "New Mail" option under "Send to". Just select it, which will create a new email automatically with the set signature in the default format. And the file exists as email attachment.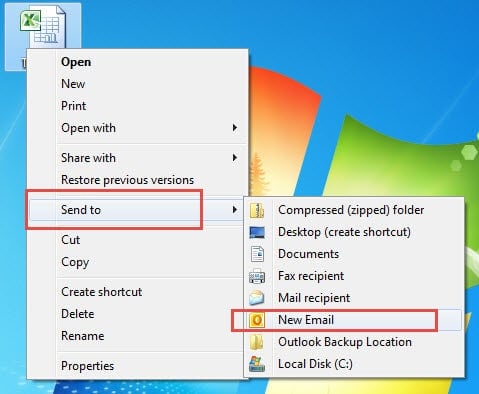 Beware of Potentially Risks
Though Outlook comes loaded with a myriad of capabilities, it cannot keep free from corruptions. To avert unwanted data disaster, we should pay attention to those potential risks, such as abrupt shutdowns, virus infection, malware attacks, hardware malfunction and software problems, etc. Moreover, when you meet a sudden crash, it is imperative to apply a formidable repair tool like DataNumen Outlook Repair, which can repair Outlook file without breaking a sweat.
Author Introduction:
Shirley Zhang is a data recovery expert in DataNumen, Inc., which is the world leader in data recovery technologies, including sql recovery and outlook repair software products. For more information visit www.datanumen.com