Error "This item cannot be displayed in the Reading Pane" usually appears when you try to check a received email in reading pane. Here are 7 valid measures to help you get rid of it.
I have ever experienced the same problem. In the past, I was accustomed to checking the new emails directly in reading pane. But one day, I met this error "This item cannot be displayed in the Reading Pane". In order to eliminate it, I searched out and concluded the following 7 quick methods.
1. Download Complete Item Including Attachments
If only the email header is downloaded to Outlook, the concrete email contents definitely cannot be displayed in the Reading pane. Thus you have to ensure that Outlook has downloaded the entire email.
To start with, launch Outlook and head to "Send/Receive" tab.
Then click "Send/Receive Groups", and select "Define Send/Receive groups" from its drop down list.
In the new popup dialog box, click "Edit" button.
Next in the subsequent screen, select the target account and mark the checkbox next to "Download complete item including attachments".
Finally Click "OK" to save the changes and return to Outlook.
2. Clear Forms Cache
If you still cannot check it in Reading Pane even though the email has been downloaded completely, you can try this means – clearing forms cache.
In Outlook, go to "File" > "Options" > "Advanced".
Then click "Custom Forms" button.
In the following dialog box, click "Manage forms" button.
Next another dialog will arise, in which you can directly click "Clear Cache" button.
Finally click a series of "OK" until all dialog boxes are closed.
3. Disable Untrusted Outlook Add-ins
Of course, Outlook add-ins should be suspected as well. Therefore, it is advisable that you are better off disabling all but Microsoft internal add-ins.
At the very outset, you need to launch Outlook in safe mode by "outlook.exe /safe" command.
Then you should go to "File" > "Options" and find "Add-ins" section.
Next click "Go" button to open the final dialog box, in which you can disable the add-ins. Just remove all external untrusted add-ins.
Later click several "OK" to back to Outlook.
Finally restart Outlook to check the email again.
4. Rebuild a Mail Profile
Another suspicious factor is the corrupted profile. Hence, it is suggested that you can recreate a mail profile.
To begin with, access to "Control Panel", in which you should click on "Mail" applet
In the new dialog, click "Show Profiles" button.
Then click "Add" button and name the new profile. And add your account to this profile.
Next start Outlook via this new profile. Import the previous Outlook data into this profile and check if the item can be displayed in Reading pane.
5. Start Outlook without Reading Pane & Delete the Email
If all the measures above cannot help you solve this issue, it is likely that this email is corrupted. In this case, you have to delete it in order to avoid further corruption to your mailbox.
At the outset, in "Start Menu", search "outlook.exe /nopreview".
Then click the shown up program to start Outlook without reading pane.
Next you can delete the email.
Finally you can restart Outlook. If you still wish to have a look at that email, you can ask the senders to send the email to you again.
6. Fix Errors in Your PST File by Means of Scanpst.exe
If you still cannot delete it though you turn off the reading pane, what you should proceed to concern about is whether errors have occurred to your PST file. In this situation, using Scanpst.exe will be your first choice. You can locate this tool by searching "Scanpst" in Windows Explorer. Later you can follow its onscreen instructions to scan and fix the errors in the file.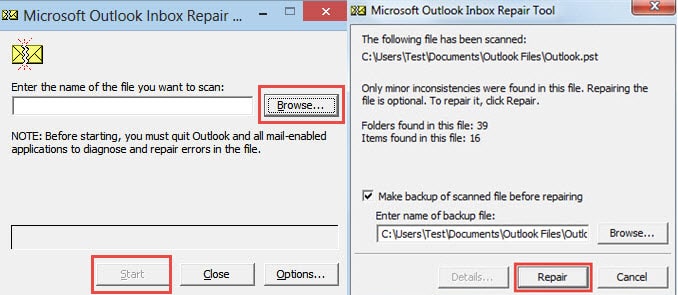 7. Lean upon Other Reliable Repair Tools
Virtually in most situations, Scanpst.exe cannot bring out your desired answers. For example, it may throw out other errors or you still cannot read and delete the email. In nature, this refers to the level of Outlook corruption has been beyond what Scanpst.exe can do. Thus you have to fall back on other reliable repair tools such as DataNumen Outlook Repair, which can rescue maximum Outlook data without any hassles.
Author Introduction:
Shirley Zhang is a data recovery expert in DataNumen, Inc., which is the world leader in data recovery technologies, including sql recovery and outlook repair software products. For more information visit www.datanumen.com