Have you ever met the situation that Outlook always crashes whenever you click the send/receive button? In this article, we will delve into the 6 primary roots and relevant solutions to this issue.

I've being using Outlook for decades. Recently, it often crashes as long as I press Send/Receive button. Since then, I cannot receive or send any emails. However, unlike the send/receive function, the other functions in Outlook work very well. I am extremely confused about this situation. Then I searched a lot on Internet and conclude some useful measures here for your reference.
1. Reconfigure Send/receive Settings
In fact, Outlook send/receive function lies on the send/receive settings, which are stored in a SRS file. Therefore, when the send/receive button malfunctions, you need to consider whether the SRS file is corrupted in the first place. Thus you should reset the send/receive settings, which can be easily completed. Just locate the SRS file and rename it to ".old". In Windows 7, copy the path to the address bar in Explorer: C:\Users\%username%\AppData\Roaming\Microsoft\Outlook\.
Then after renaming the file, you can try to send an email. If the error persists, turn to the other methods.
2. Turn off Antivirus Software Scanner
Besides, antivirus scanner integration with Outlook is also an essential factor to be thought about. If ensure that the scanner is working in Outlook, you should disable it right now.
For a start, go to "Start Menu", select Outlook program and run it as admin.
Then in Outlook, head to "File" menu and click "Options".
In the following window, select "Add-ins" tab and click "Go" button at the bottom of the right side.
Next in the popup dialog box, you can locate the virus scanner add-in. Select it and click "remove" button beside.
Finally click several "OK" to back to Outlook.
After disabling the specific add-in, you need to try again. If you find that it fails as well, resort to the next approach.
3. Corrupt Received Email on Mail Server
Many people may not notice this cause, namely there exists a stuck compromised message on your mail server. In this case, the send/receive function will not work absolutely. Hence you would be required to logon to your web-based mailbox and then check whether some corrupt message is stuck. If so, delete the victim and launch Outlook to try the send/receive button again.
4. Recreate Your Outlook Profile
There is no doubt that a corrupt profile has the same malicious influence as the corrupt emails on mail server. Hence, you ought to verify if a corrupt Outlook profile is the root. The fastest way is to recreate a profile.
To start with, go to "Start Menu" and click "Control Panel".
Select "Mail" applet and click "Show Profiles" in the new dialog box.
Then in the subsequent screen, click "Add" button to create profile.
Finally you can set up your mail accounts as usual.
When completing the above operations, try the send/receive button again. If Outlook crashes occur as before, the most possible issue is that your PST file is broken.
5. Repair Your PST File via Outlook Inbox Repair Tool
Fortunately, Outlook comes loaded with a handy inbox repair tool, Scanpst.exe. Thus if the issue is rooted in damaged PST file, you can utilize it to tackle it. You can easily search and locate it in Window Explorer. After running it, click "Browse" button to select the target PST file and click "Start" button finally. Depending on the size of your PST file, it will take several minutes or so.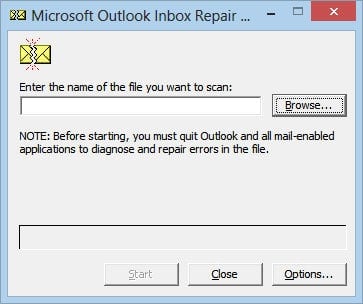 6. Take Aid of a More Potent Repair Tool
Though Scanpst.exe is free and handy, it could not make effects if the PST file is damaged seriously. Under this circumstance, you can resort to a more formidable repair tool as well, for instance, DataNumen Outlook Repair. Through long-time study in Outlook corruption, it can scan and repair PST file within seconds. Moreover, it can help you extract the Outlook data with minimized corruption or loss.
Author Introduction:
Shirley Zhang is a data recovery expert in DataNumen, Inc., which is the world leader in data recovery technologies, including sql recovery and outlook repair software products. For more information visit www.datanumen.com