Outlook Error 0x80048002 refers to"This task was cancelled before it was completed", which frequently occurs when sending or receiving emails. This article will probe into 6 swift solutions.
In general, many people can encounter the error "This task was cancelled before it was completed" when they cancel the sending manually. But if you haven't dismissed it and the Error 0x80048002 appears, you should take the following methods to eradicate it.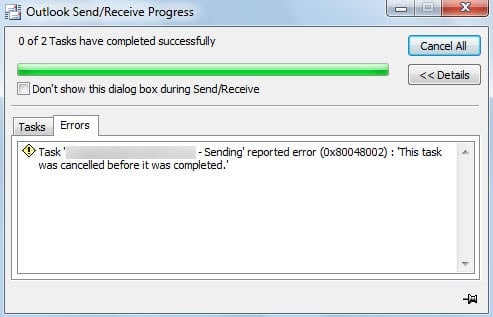 1. Check Your Email Account Settings
Due to the fact that this error belongs to send/receive errors, you should check whether your email account setting is correct, including incoming and outgoing server.
Launch Outlook and go to "File" menu,
Then click "Account Settings" button.
Select the target account and click "Change" button.
Finally you can examine the concrete settings. For more specification, click "More Settings" button. If you are not sure about the incoming and outgoing server, you need to contact with server admin.
2. Disable Antivirus Software Integration with Outlook
Provided that your account setting is correct, you should consider whether the antivirus software scanner is to blame. Virtually it is suggested to disable the antivirus scanner, which can delete and quarantine Outlook emails. You can disable it in the software itself or run Outlook as administrator to disable it in Outlook add-ins.
3. Start Outlook in Safe Mode and Remove All but the Microsoft Add-ins
Owing to multiple third party software installing in your computer, they may have added their add-ins in Outlook. Hence, there are great chances that some faulty add-ins triggered this problem. You should check whether the add-ins are criminals and then continue to remove the suspected.
To start with, close Outlook and go to "Start Menu".
Then type "outlook.exe /safe" in search field, and click the shown program to start Outlook in safe mode.
Next you can try to send the emails again. If it works, this error must stem from the add-ins.
Later you should go to "File" > "Options" > "Add-ins" > "Go".
In the popup dialog, just deselect the all but the Microsoft add-ins.
4. Launch Outlook in Windows Clean Boot Mode
If after running Outlook in safe mode but the Error 0x80048002 persists, you can attempt to restart Outlook in clean boot.
Access "Start Menu" and type "msconfig.exe" in the search field. And press enter to open it.
Then in the following dialog, under "General" tab, choose "Selective startup", and deselect "Load startup items".
Next switch to "Services" tab, mark the checkbox of "Hide all Microsoft services" and then hit "Disable all" button.
Finally click "OK" and restart computer. Launch Outlook to check if the Outlook can work in normal fashion.
5. Utilize Outlook Inbox Repair Tool to Solve This Error
Supposing that the 4 methods above cannot fix the error, you should take recourse to a repair tool. Outlook comes loaded with a built-in repair tool, namely Scanpst.exe. You can locate it by searching "Scanpst" in Windows Explorer. After running it, you can just follow the instructions to scan and solve the Error 0x80048002.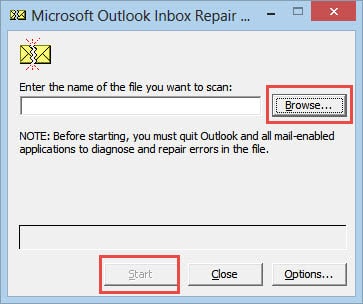 6. Take Aid of an External Repair Tool
However, under most circumstance, Scanpst.exe is not adequate to figuring out the complex causes. Thus it is imperative for you to fall back on more potent repair software, such as DataNumen Outlook Repair, which has the capacity to scan and fix the Outlook errors with effortless ease. Besides, not only can it solve errors, but also it is able to repair the severely compromised Outlook file without any hassle.
Author Introduction:
Shirley Zhang is a data recovery expert in DataNumen, Inc., which is the world leader in data recovery technologies, including sql recovery and outlook repair software products. For more information visit www.datanumen.com