Have you ever confronted the problem that Windows gets stuck at 10%, 50% or 99% of "Resetting this PC"? Being stuck in this course blocks your PC from booting up normally. Yet, don't panic. You can use the 6 solutions in this post to fix it.
When you come across the issue that Windows gets stuck on "Resetting this PC", don't be panic. As long as you take the following 6 troubleshooting solutions, you can get rid of it as soon as possible. Now, read on to get them in detail.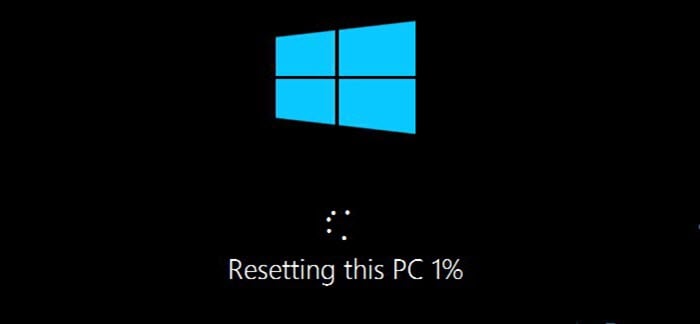 1. Leave PC Running Overnight
In some cases, it seems that the "resetting this pc" progress is indeed quite slow. Under this circumstance, you can just leave it running for some hours, such as overnight. At times, it may finish on its own. But, if it is stuck on the same percentage, you'd better take the following measures.
2. Startup/Automatic Repair
Moreover, you can attempt to fix this issue via "Startup/Automatic Repair" tool. It can be triggered via the Windows installation media or a bootable external drive.
First off, insert the bootable media into your PC and boot from it.
Then, select "Repair your computer" > "Troubleshoot" > "Advanced options" > "Startup Repair".
When it completes, you can try to restart your PC to see if error persists.
3. Command Prompt
Also, since the problem may occur from corrupted boot configuration data, you can run command prompt to rebuild and fix it.
At first, like the above solution, reboot PC from a bootable drive.
Then, click "Repair your computer" > "Troubleshoot" > "Advanced options" > "Command Prompt".
Next, in the popup Command Prompt, run the following commands in turn – bootrec /fixmbr

bootrec /fixboot
bootrec /scanos
bootrec /rebuildbcd

Eventually, after that, reboot PC in a normal status.
4. System Restore
This trouble may result from the system failures. Therefore, it is also a solution to revert the current system to a previous system point. Of course, it demands that you have enabled "System Restore" feature before.
5. Reinstall Windows
Furthermore, assuming that the solutions above don't work, you have no choice but to reinstall the Windows system. If you do not know how to properly do that, you are better off contacting relevant professionals for help.
6. Third Party Tool
Last but not least, aside from Windows reinstallation, you can also make use of a third party utility. There are multiple such tools available in today's market. Thus, you can easily find one. But, you should beware of the unreliable software from unknown sources in that they may destroy your data, like corrupt Outlook files, without letting you know.
Author Introduction:
Shirley Zhang is a data recovery expert in DataNumen, Inc., which is the world leader in data recovery technologies, including SQL Server corruption and outlook repair software products. For more information visit www.datanumen.com