In this article, we look at using MS Access effectively in retail stores. You will learn how to quickly detail important aspects like sales, inventory and customer service into an Access database project.
Irrespective of the size of your business, maintaining an Access database proves to be a great help in the long run. If you are in a retail business, you would know that there are a lot of things you need to keep a track of. Ranging from inventory and shipping, to customers and employees even a slow or average day requires proper data maintenance for smooth functioning. Depending on the kind of business you have and what all you need to track, you will be required to build a database accordingly. But a few of the basic elements that are usually tracked for all businesses include sales, inventory, and customers, which can be tracked using a stock management database.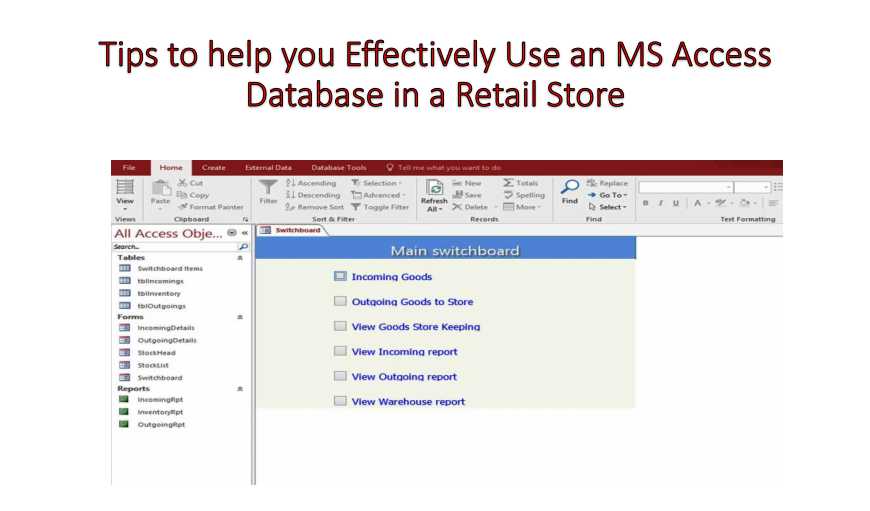 A stock management database or a stock control system can be a solution for a lot of retail businesses which are aiming at better tracking. But there are certain key points that you need to keep in mind while building these management systems, to ensure that they work effectively in your retail store.
Tips to ensure effectiveness of MS Access databases in Retail stores
1. Understand the purpose of your Database
The database that you are designing needs to tackle the problem in the best possible way. This will require you to first understand what is the main purpose of designing the databases, what exactly do you want it to achieve and what all do you need from it. When you are clear with its purpose, you will be able to design it better, maintain it better, and also alter it if there is a need.
2. Define required tables
Whatever goal you want the database to achieve, you will have to provide it with certain information that will be used to achieve the goals. This information in Access is provided in the form of tables. So be clear with all tables do you wish to include in the database, to ensure effective performance.
3. Add fields to Selected tables
If you are an Access user this should not come as a surprise to you. Just selecting the right set of tables is not enough. You also need to add fields of data in these tables to fill them up with all the necessary information. Also, attach the appropriate data type to all fields you add in the table.
4. Create your own tables
While creating a stock management database, you can either import the required tables, or create new tables in the management system. Whatever you do, make sure it only contains relevant information.
5. Set Relationships


Signify the relationship between tables in the database to explain how one table is related to another and what all tables of the database are related to each other. While adding relationships make sure that you are doing it correctly, do not mistakenly relate unrelated tables, as this can affect the outcome.
6. Create Reorder Query
To make sure that the inventory you have created is working effectively, you need to create reorder queries as well. This will inform you every time you run out of stock for one particular item and need to reorder it.
If you manage a retail store or any other business, you would never wish to lose the data stored in the Access database. To ensure the safety of the data even after an Access crash, call in a specialized accdb repair tool like DataNumen Access Repair which can recover all your data in a jiffy.
Author Introduction:
Vivian Stevens is a data recovery expert in DataNumen, Inc., which is the world leader in data recovery technologies, including mdf fix and excel recovery software products. For more information visit www.datanumen.com