Many users complain a lot about the pretty long time when they attempt to restore an iTunes backup to iPhone. Now, in this article, we will teach you how to fix it in 6 easy troubleshooting steps.
To avoid data loss, one of the most effective approaches is to back up data on a regular basis, no matter in terms of your computer or phone data. For example, when you encounter PST corruption, if you have backups, you can easily restore PST data without needs to repair PST file. However, at times, some troubles may occur when restoring backups. For instance, some iPhone users are disturbed by the issue that restoring iTunes backup to iTunes appears to take forever. Here we will guide users to fix it in 6 steps.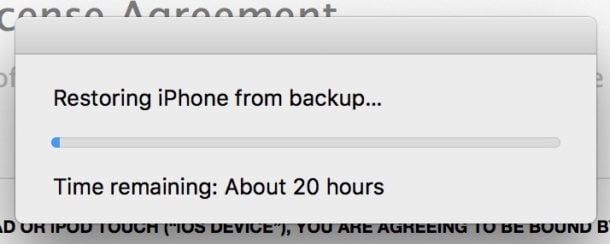 Step 1: Disconnect iPhone
First off, you need to disconnect the iPhone from the computer. Please remove it safely instead of directly ejecting it violently. Otherwise, it'll damage your iPhone without letting you know. One day, you may find some apps inaccessible or some files are compromised and so on.
Step 2: Upgrade iTunes
Then, you ought to check if the iTunes on your computer is the latest version. At times, the outdated iTunes may contain some vulnerable bugs, which can lead to the excessively long restoring time. Hence, in this step, you have to upgrade your iTunes application.
Step 3: Reboot iPhone & Computer
After that, you have to reboot both your iPhone and computer. It is because that the culprit may be the phone or computer itself. For instance, there may be too many processes running on your computer in the background, which leads to this issue. At this point, a simple reboot can assist you to eliminate such troubles with ease.
Step 4: Try iTunes Restore Again
At present, when iPhone and computer boots back up, you can retry to restore an iTunes backup to your iPhone. On the iPhone, launch "Restore from Backup with iTunes". Then, connect iPhone to computer and let restoring backups go on to see if the problem persists.
Step 5: Restore iCloud Backups Instead
Assuming that iTunes backup restoration is still in such a dilemma, perhaps it is the time for you to consider the other iPhone backup features, such as iCloud. Do you have iCloud backups? If so, you can try to restore iCloud backups instead.
Step 6: Contact Apple Support
Last but not least, provided that you still persist to restore iTunes backups, you have no alternative but to contact the relevant experts, such as the official Apple support. They promise to provide users with free support in its warranty. Hence, you must be able to gain effective helps from them.
Author Introduction:
Shirley Zhang is a data recovery expert in DataNumen, Inc., which is the world leader in data recovery technologies, including sql fix and outlook repair software products. For more information visit www.datanumen.com