Have you ever received "The Boot Configuration Data file is missing some required information" error when booting your PC? In this article, we will teach you to fix this issue step by step.
When you boot your Windows-based computer but unfortunately encountered an error – "The Boot Configuration Data file is missing some required information ", as shown in the following screenshot, you must be panic and look for various solutions to fix it. Now, in the followings, we will focus on this error and share 5 effective methods with you.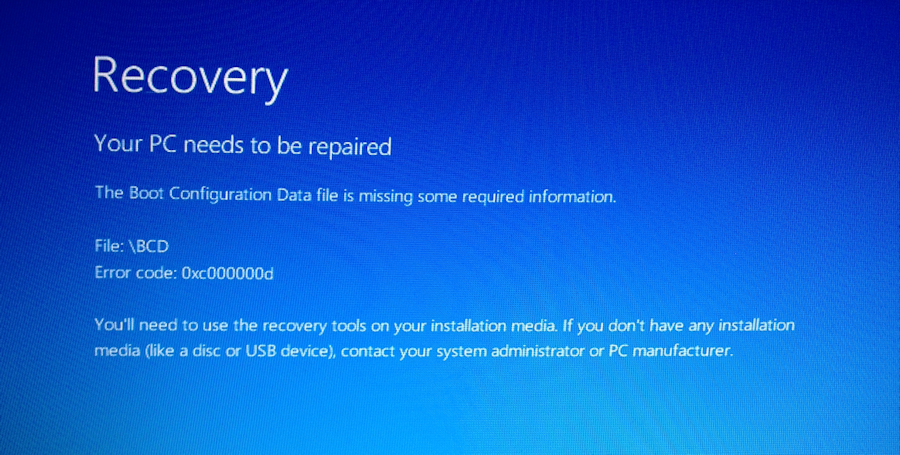 1. Reboot from Recovery Drive
If you've created a recovery drive before, it is pretty easy. You can just reboot the PC from the recovery drive. Firstly, insert the recovery CD or USB drive into your PC and press "Ctrl + Alt + Delete" to restart PC. Then, while starting, tap on "F12" to boot from the recovery CD or drive. Later, select "Windows repair" and follow the onscreen wizards to successfully boot into your PC.
2. Run "Automatic Repair" on Startup
If you do not have such a recovery drive, to fix this error, you have to procure a Windows system installation media. Then, insert it and boot Windows from it. In "Windows Repair" screen, select language, format and keyboard. Next, you need to choose the "Repair your computer" > "Troubleshoot" > "Advanced Options" > "Automatic Repair"/"Startup Repair".
3. Try "bootrec" in Command Prompt
Moreover, as the error message mentions, boot configuration data file is missing in your Windows. To solve this problem, you can use the "bootrec" command line in Command Prompt. Follow the steps in the above way to enter the "Advanced Options" screen and select "Command Prompt". Then, in the "Command Prompt" window, run the following lines one by one.
bootrec /fixmbr
bootrec /fixboot
bootrec /scanos
bootrec /rebuildbcd
Finally, type "exit" to close the "Command Prompt" window and reboot the PC.
4. Restore PC to Factory Settings
If the above repair methods cannot assist you to get rid of this error, you can only try to reset or refresh the PC to its factory settings. Nevertheless, this method will erase the PC data. Hence, you have to think over it carefully before this action. It's necessary to ensure that you've made effective and updated backups for your PC.
5. Replace the Failed Hard Drive
Last but not least, commonly, such an error may also indicate that the internal hard drive in your PC is subject to some problems, failing or even damaged. Thus, if the above solutions are unable to help you fix this error, you should consider replacing this hard drive. Otherwise, one day, the hard drive will stop functioning completely. At that time, data recovery, like PST recovery, may be too late and too difficult.
Author Introduction:
Shirley Zhang is a data recovery expert in DataNumen, Inc., which is the world leader in data recovery technologies, including corrupted mdf and outlook repair software products. For more information visit www.datanumen.com