In this article, we will give you 5 ways to set different background colors for different pages in your Word document.
Word allows us to set a background color for our document. However, it will apply the same color for all pages. But, sometimes we may need to print a document with multiple background colors, or highlight important pages with different background colors. In such cases, we need some workarounds to set different background colors for different pages.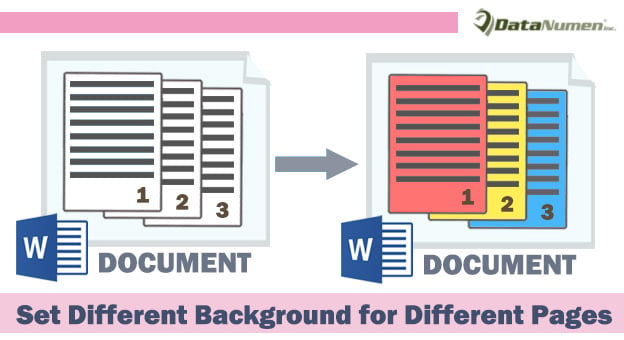 Method 1: Insert a Text Box
First and foremost, click "Insert" and choose "Text Box".
Next choose "Draw Text Box" on the drop-down menu.
Then draw a text box to cover the entire page.
Now right click on the outline of text box. Move cursor on "Wrap Text" and click "Behind Text" on its submenu. You will be able to see the texts then.
Next, right click on text box outline again. This time choose "Format Shape".
In "Format Shape" dialog box, click "Fill" and then choose a fill color.
Then in the same box, click "Line Color" tab.
And select "No line". Close the box.
Now if you need to print the document, go to open "Word Options" by clicking "File" and "Options". Next click "Display" and check "Print drawings created in Word" and "Print background colors and images" boxes. Click "OK".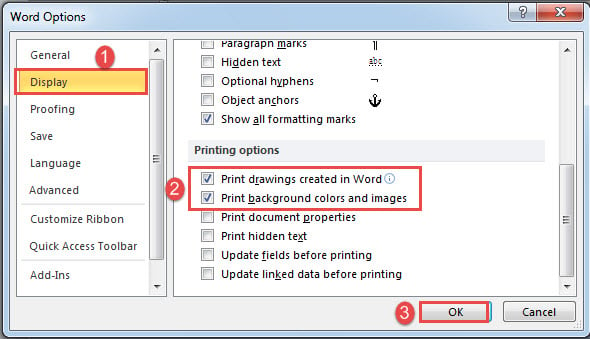 Here is the effect:
Method 2: Insert a Shape
Firstly, click "Insert" and choose "Shapes".
Then select "Rectangle".
Next your cursor will change to a cross sign. Use it to draw a rectangle to cover the page.
Likely, right click on the shape.
Repeat from step 4 to 8 in method 1.
Ensure the print options are properly set if you need to print the document.
The above 2 methods are best used to apply colors for individual pages. If you have multiple pages which need to be in the same color, you may consider the following solutions.
Method 3: Copy the Color to More Pages
After employing method 2, click on colored page and press "Ctrl+ D" to copy the color.
Next drag the shape to another page and release your cursor. You will see the color is perfectly pasted.
Method 4: Insert Section Breaks
If you need to apply a color for a number of pages in order, you can create a section first. Move cursor to the start of the first page in the section, click "Page Layout", click "Breaks" and choose "Continuous". This inserts a section break.
Move cursor to the end of the last page in the section. Use the same way to insert a section break.
Then double click on the header of the first page in the section to enter header and footer mode.
Deselect the "Link to Previous".
Go to the first header of the next section. Repeat step 4.
Then use either method 1 or 2 to color the pages.
Lastly, click "Design" and click "Close Header and Footer" to exit header mode.
Method 5: Split a Document
There is one last way that is to split a document into several subdocuments. Then click "Page Layout", click "Page Color", and choose a color.
Fix the Annoying Word Issues
As most Word users have noticed, Word is susceptible to errors and mistakes. This is excusable but something needs to be fixed. Otherwise our treasurable data would be on the line. Thus, it's necessary to find a utility to fix Word.
Author Introduction:
Vera Chen is a data recovery expert in DataNumen, Inc., which is the world leader in data recovery technologies, including fix xls and pdf repair software products. For more information visit www.datanumen.com