When you try to delete an email, Outlook may stop the action and throws out relevant errors. In this situation, you can utilize the following 5 means to do away with it.
There are many kinds of error messages when you fail to delete an email in Outlook, such as "An unknown error has occurred", "Messaging interface has caused an unknown error" and so on. Actually we can ascertain that this error stems from email corruption. So do not panic. Applying the 5 ways below can solve it with utmost ease.
1. Hard Delete the Email
Now that Outlook refuses your deletion of the email, hard deleting it is the first method for you. Just select the target email and press" Shift + Delete" keyboard shortcut. Outlook will ask you if you want to delete it permanently in a popup alert. Click "Yes" button to confirm the hard deletion. Then the message will jump over the Deleted Items folder and will disappear forever.

But if the error still pops up when you hard delete it, it means that this method fails. So you should turn to the other approaches.
2. Empty Your Deleted Items Folder
Apart from hard deleting the email, you can try to empty the Deleted Items folder at first. Then if the message still persists in Deleted Items folder, try to delete it again.
To empty this folder, you should firstly pitch on the "Deleted Items" folder in the navigation pan.
Next right click it and select "Empty Folder" from the context menu.
Finally you can re-open Deleted Items folder and verify whether the message is still located there. If so, you should try to delete it again. Provided that you still fail to delete it, resort to the next method please.
3. Edit and Resave the Email
Virtually repetitive failure of deletion refers to the problem that the email is corrupted. Therefore, to some extent, re-editing the email is a simple method which can remove a certain corruption of the email.
Double click the email to open it in its own window.
Then under "Message" tab, you should locate and click "Actions" button in the group of "Move". And from its drop down list, choose "Edit Message".
Next enter or remove some characters in the message body at your will.
After editing, go to "File" menu and click "Save".
Finally you should close the email and back to Outlook navigation pane. Try to delete it again.
4. Check Your Outlook File for Errors via Inbox Repair Tool
Supposing the above 3 methods prove invalid, it is highly likely that the message is seriously damaged, which may even jeopardize your Outlook file. In this case, you have to lean upon Outlook Inbox Repair Tool, Scanpst.exe to check the file for errors.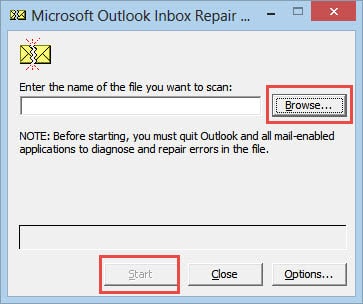 Due to the fact that it is usually hidden deeply, you even cannot find it by search field in "Start Menu". You should search "scanpst" in File Explorer. Then it will show up. After finding it, as for the concrete operations, you can directly follow the onscreen instructions.
5. Utilize an External Repair Tool
In essence, Scanpst.exe cannot rescue the seriously broken PST file. Hence it is highly recommended to keep a fabulous external tool like DataNUmen Outlook Repair in vicinity. With power-packed features, it can check out the errors and even repair heavily damaged Outlook file without any hassles.
Author Introduction:
Shirley Zhang is a data recovery expert in DataNumen, Inc., which is the world leader in data recovery technologies, including sql recovery and outlook repair software products. For more information visit www.datanumen.com