In today's article, we will focus on equipping you with 4 effectual ways to restore your Word document to an earlier version.
When navigate through a document, we would like to make some revisions now and them. However, giving a second thought, we might want to discard all the changes and keep the original version only.
Too address the issue, there are 4 solutions in this post you can pick.
Method 1: Changes Haven't Been Saved Yet – Just Close and Not Save
Even if you've made some revisions throughout the document, there is still the chance that you leave the file unsaved. If so, you can just close the file. And when the dialog box reminding you to save the file pops up, click "Don't Save" button. Then the file is in its original state.

Method 2: Changes Have Been Saved but Document are Not Closed Yet – Undo Changes
As you know, there is the "Undo" command in the "Quick Access Toolbar" by default. If you've saved a file with modifications but haven't closed it yet, you can use the "Undo" tool to restore the file to its earlier status.
On one hand, if the adjustments are few, you can simply click on the "Undo" command or press "Ctrl+ Z" to revert to the former condition.
On the other hand, if the reconstructions are everywhere, you can click on the triangle button behind "Undo" command and there shall be a list of all amendments on the document. Then move your cursor form the first action to the last one to have them all in selection. Finally, just give it a click. With this method, you can undo multiple actions in one go.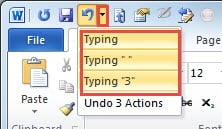 Next, we will discuss about the situation where modified file has been closed. It is when the backup come to use.
Method 3: Create Backup
You can have Word automatically create backup for your file. Here are instructions:
First and foremost, click "File" tab.
Then click "Options" and you shall have "Word Options" dialog box in open.
Next, click "Advanced".
And scroll down to "Save" part.
Check the "Always create backup copy" box.
Lastly, remember to click "OK".
Now go to the file where you store the file and you will find a backup of it in its earlier condition.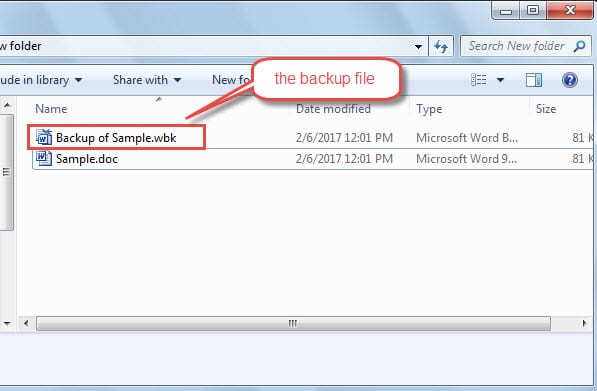 Method 4: Find from Windows Backups
To begin with, go to the place where you save the file.
Then select the file and right click on it.
Next click "Restore previous versions".
Now in the properties dialog box, select the right version of file.
You can click "Open", "Copy", or "Restore".
By the way, Windows only save previous versions when there is a restore point.
Consequence of Failing Taking Backups
Do you keep all your files synchronized with your backups? If you perform it on a regular basis, you shall find no difficulty in getting back Word files whenever there is a corruption. However, if you don't, things can get complicated. Nevertheless, you can still resort to a Word document problem recovery tool to retrieve broken files.
Author Introduction:
Vera Chen is a data recovery expert in DataNumen, Inc., which is the world leader in data recovery technologies, including corrupt Excel fix utility and pdf repair software products. For more information visit www.datanumen.com