In this article, we will present you 4 easy methods of how to make a copy of your Word document.
In terms of opening a Word file, there are several options available for you. For example, you can open it as Read-Only or as Copy, etc. And today, our topic goes with opening a Word file with making a copy.
Advantages of Making and Opening a Word File Copy
To create a Word file copy has the following four main advantages:
Firstly, there are occasions when you open a file with the attention to view the content only rather than editing. Then open a copy can well-prevent you from accidentally change the text or formatting on the original file.
Second, there are also times when you need to change the file temporally. Again, a copy file can enable you to do that without compromising the integrity of the original one.
Third, there are cases when you need to create multiple similar documents with only a little difference. At that time, you can use the original file as a template and make changes on copies to generate many variants.
Last but not the least, you can consider a copy as a backup of a file to some degree.
Since you are aware of these advantages, here are specific methods for you to make and open a Word file copy.
Method 1: Just Make a Copy in Windows
First right click a file.
Then choose "Copy" option on the drop-down menu.       
Move to a location where you want to save the copy.
Right click again.
Choose "Paste".
And you will have a copy of the original file. Now you can open it.
Method 2: Open a File as a New One in Word
Firstly, right click a file.
Then choose "New" option to open the file as a new one.
You can notice the new file does not inherit the original name.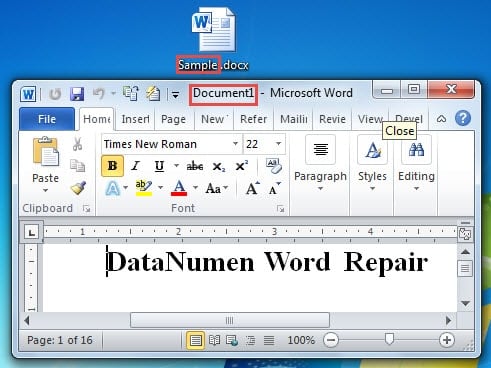 Therefore, if you make no change on the file, you can close it directly.
Otherwise, if some modifications are made, you will receive a notification to remind you of saving the file.
Click "Save" if necessary.
Then you will see the "Save As" window. First choose a save location.
And next name the file.
Click "Save" button.
Method 3: Open as Copy in Word
This time open Word first.
Then click "File" tab.
Next click "Open" option.
In "Open" window, first click to choose a file.
Then click the upside-down triangle behind the "Open" button.
Choose "Open as Copy".
Now you can see from the title bar that the file you open is a copy.

Method 4: Create a New File from Existing in Word
Still open Word first.
Then click "File" tab.
Next click "New".
On the right side area, click "Creating from existing".
In "New from Existing Document" window, choose a file.
Then click "Create New" button.
Similarly, if you change a bit, the "Save As" window will pop up when you try to close the file. Then you repeat from step 5 to step 8 in method 2.
Protect Your Word from Crash
In today's article, we discussed the advantages of opening file as copy. This can easily lead you to think about taking backup of files. It's true that to back up your file on a regular basis is a great habit. Yet, still you cannot tell when Word will collapse. So when Word crash and you have no backup of file at hand, you should use the built-in   function in Word to repair Word and to restore your file back immediately.
Author Introduction:
Vera Chen is a data recovery expert in DataNumen, Inc., which is the world leader in data recovery technologies, including xls repair and pdf repair software products. For more information visit www.datanumen.com