Many users hope to export Outlook calendar to a Word document. Therefore, in this article, we will expose 3 easy and rapid approaches to realize it.
In Outlook, it is simple to export the list of calendar items to an external file, no matter to Excel file or Word document. Yet, most of time, what you want to export is the calendar, which is admittedly not as easy as exporting item list. Hence, thereinafter, we will teach you 3 easy workarounds to realize it.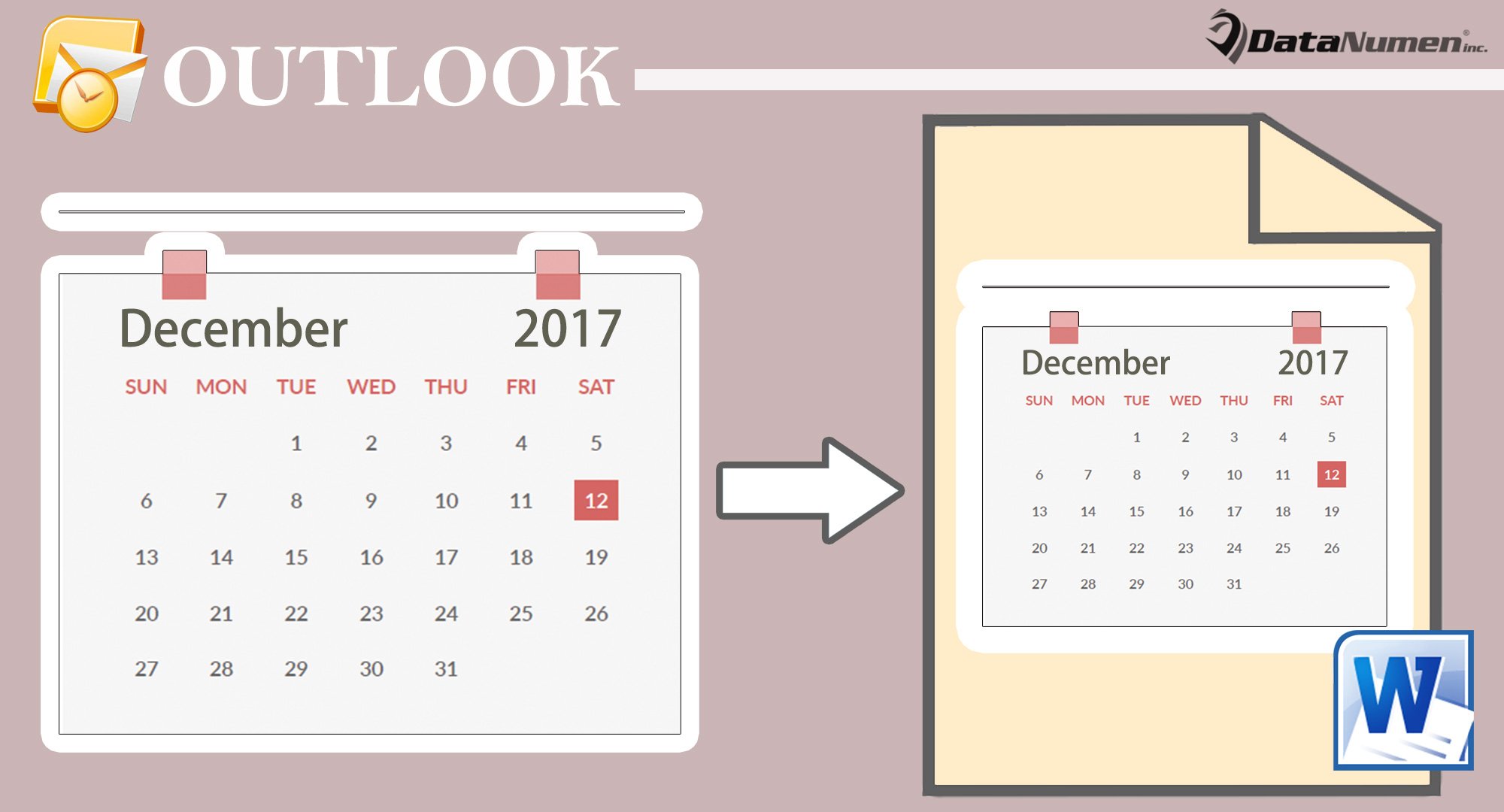 Method 1: Insert Screenshot of Calendar
First off, in Outlook, open the right calendar folder.
Then, ensure the current view is "Monthly Calendar" view.
Next, scroll up or down to the month of calendar which you want to export.
Subsequently, create a new Word document.
After that, shift to "Insert" tab and click "Screenshot" button.
Later, select the "Calendar" screenshot from "Available Windows".
Now, use this way to insert the other months of calendar into the document.
Method 2: Copy "Emailed Calendar"
To begin with, in the calendar, click "E-mail Calendar" button.
Then, a new email will display.
In the popup dialog box, you should specify the date range of calendar.
After clicking "OK", the calendar details will be inserted in the mail body.
Now, you can copy all the email content.
Finally, in the Word document, press "Ctrl + V" to paste the copied content.
Method 3: Export via OneNote
At the beginning, access the right calendar folder.
Then, go to "File" menu and switch to "Print" tab.
On this tab, you can change the date range in "Print Options".
Next, select "Send to OneNote" in "Printer".
Afterwards, click "Print" button.
The calendar will be opened in the MS OneNote at once, like the image below.
Later, click "File" in the upper left corner.
In the "File" menu, turn to "Export" tab, on which select "Word document" format and click "Export" button.
After that, in the new dialog box, choose a destination folder and type a name for the Word document to export to.
Ultimately, after you hit "Save", you've gotten a new Word document, which will look like the picture below.
Outlook Cannot Be Immune from Damage
Provided that you have applied Outlook for decades, you must have come across numerous issues in your Outlook. To solve the minor errors, you can simply make use of the inbox repair tool with ease. However, if the issues have posed severe damages to your Outlook, the inbuilt utility cannot help matters. At that time, it is necessary to take recourse to an experienced external tool, such as DataNumen Outlook Repair. It can fix PST troubles in a jiffy.
Author Introduction:
Shirley Zhang is a data recovery expert in DataNumen, Inc., which is the world leader in data recovery technologies, including corrupted sql and outlook repair software products. For more information visit www.datanumen.com