Outlook doesn't support users to set a custom follow up flag with reminder to the emails in IMAP account. In this article, we will introduce 2 workarounds which can help you to achieve the same "follow up" function.
If you are using POP3 email account in Outlook, you can set the custom follow up flag and reminder to an email message. However, if you are using IMAP account, it has no this feature. Shown as the following screenshot, you can find that only "Flag Message" is available for IMAP account. It is a limit of IMAP protocol.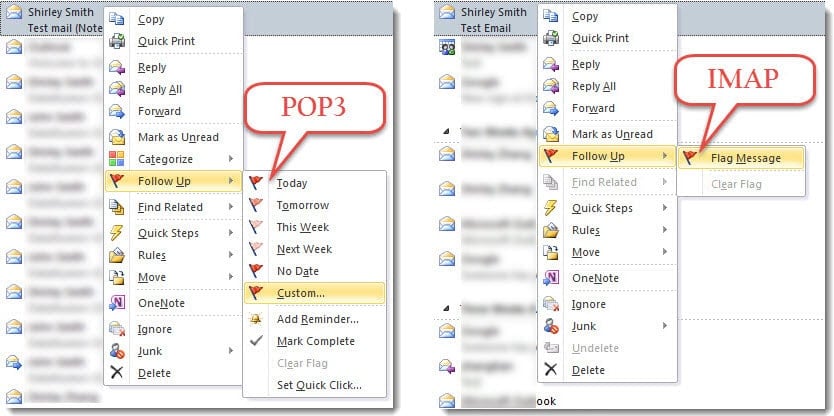 Actually, the reason why we flag an email is that we want to continue following up the mail. Perhaps it is because the email contains some important information. For this purpose, why not we create a task with the email as attachment and then set a custom flag and reminder? Here are 2 methods.
Method 1: Create a New Quick Step
At the very beginning, in Outlook mail pane, click on "Create New" button in "Quick Step" group.
Then in the new popup dialog box of "Edit Quick Step" button, you should choose two actions. One is "Flag Message" and the other one is "Create a task with attachment". Also, remember to specify a name for this quick step.
Next click "Finish" button.
Now you can have a try.
Locate one email in the IMAP account mailbox.
And then click on the new quick step.
At once the new task window will open up. In it, you can see the email is inserted as an attachment in the body.
Now you can click on "Follow Up" button and select "Custom" or "Add Reminder" at will.
Finally click "Save & Close" button. You can get a custom flagged task with the email as attachments in your task folder.
Method 2: Drag and Drop the Email to Task Icon in Navigation Pane
Pitch on one mail in the IMAP account mailbox.
Then drag and drop the email with the right mouse button onto the Task icon in the navigation pane.
Next you will receive a list, like the following picture. You ought to choose "Copy Here as Task with Attachment".
Later another new Task window will show up, in which the email is added in the body as attachment. Now you can take the same steps in the first method to add custom flag and reminder.
Eventually save and close the task.
Keep Prepared for Unanticipated Outlook Crash
Due to Outlook's vulnerability and difficulty of predicting Outlook crash, regular users should keep well-prepared all the time. The most important step is to make a consistent and up-to-date backup for Outlook data. In this case, even though the original data gets corrupt in crash, you still can easily recover Outlook data from backups. Moreover, it is suggested to equip your Outlook with a stellar repair tool, like DataNumen Outlook Repair, which will come in handy.
Author Introduction:
Shirley Zhang is a data recovery expert in DataNumen, Inc., which is the world leader in data recovery technologies, including repair SQL Server database damage and outlook repair software products. For more information visit www.datanumen.com