When sending an Outlook meeting without specifying the location, you will receive a warning definitely. So if you seldom need to fill in a meeting location, the warning will be vexing. This article will provide a workaround to avoid it.
When you send a meeting invitation with no location, an Outlook alert will pop up, shown as the following screenshot. However, in reality, for many people, the meeting location is needless. So they often bypass the "Location" field. Thereby, the Outlook meeting location warning is extremely annoying. Focusing on this issue, we can use the following workaround to prevent it.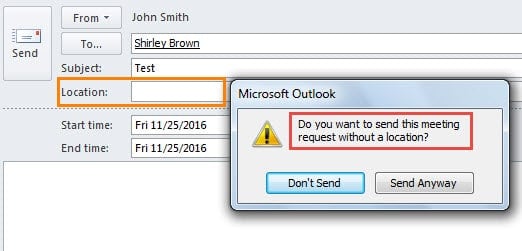 Step 1: Create a Custom Form with a Spacebar in "Location" Field
At the very beginning, start Outlook program and head to Calendar pane.
Then you should switch to "Developer" tab.
Note: If you don't find "Developer" tab, you should enable it firstly. Go to "File" menu and click "Options". In "Outlook Options" window, you can activate it under "Customize Ribbon".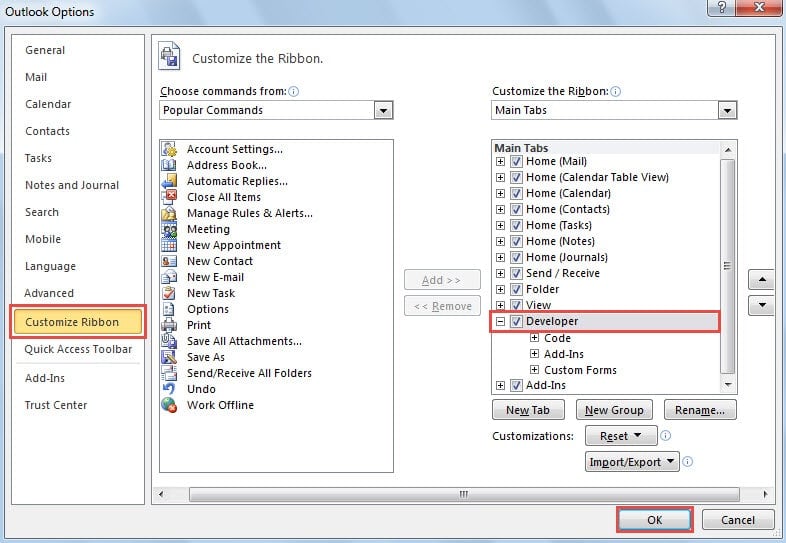 Press "Design a Form" button in "Custom Forms" group on "Developer" tab.
Next in the new popup dialog box of "Design Form", you should firstly select "Standard Forms Library" from the "Look In" drop down list, and then choose "Meeting Request <Hidden>", and lastly click on "Open" button.
After that, the Appointment form in Design mode will arise. You ought to put your cursor in the "Location" field and then press a spacebar.
Later click "Publish" button "Form" group and choose "Publish Form" from the drop down list.
In the subsequent "Publish Form As" dialog box, you should specify a display name for the new appointment form, say "Settled Meeting Location". After that, click "Publish" button.
Finally close the current Appointment form window without saving changes.
Step 2: Apply the New Custom Form to the Calendar Folder
For a start, you should right click one calendar folder in Calendar navigation pane and choose "Properties" from the context menu.
After that, the dialog box of "Calendar Properties" with "General" tab selected will turn up. Press the down arrow next to the "IPM. Appointment". From the drop down list, select the newly created form – "Settled Meeting Location".
Eventually you can click "OK" to close the dialog box and back to Calendar.
Now you can retry to create a new meeting. In New Meeting window, you will see that "Location" field has been automatically filled with a spacebar. Therefore, you needn't be concerned about "Meeting Location" any longer. You can compose the other meeting details as normal and ultimately send it out. NO warning will pop up.
Note: Of course, if you need to specify a location for the Outlook meeting, you still can change it at will.
Retrieve Outlook Data in the Event of Crashes
Assuming you're an Outlook regular user, you must have been confronted with various Outlook errors and crashes. Without a doubt, it is difficult to predict the errors and crashes. Hence, you had better pay close attention to relief measures, including regular backups, Inbox Repair Tool as well as a more potent third party tool, like DataNumen Outlook Repair. It can repair Outlook error with effortless ease,
Author Introduction:
Shirley Zhang is a data recovery expert in DataNumen, Inc., which is the world leader in data recovery technologies, including repair SQL damage and outlook repair software products. For more information visit www.datanumen.com