By default, Outlook attachments in .docx, .xlsx and .pptx will open in Protected View. To edit it, you should press "Enable Editing" at first. If you may feel it annoying in that you've confirmed the security of attachments before opening, this article will tell you how to disable the protected view.
When you double click on a mail attachment in Outlook, trying to open and edit it, you will discover that the file always shows in Protected View. You should press "Enable Editing" button firstly to edit it. If you're careful enough before opening the attachment, you must feel it redundant and vexing. Follow the 2 steps below to disable the Protected View. Here we will take MS Word as an example.

Step 1: Disable Protected View in MS Word
For a start, you need to open MS Word program.
Then click "File" button to access "File" menu, from which you should locate and select "Options" item.
After that, the "Word Options" window will pop up. You should switch to "Trust Center" tab and click on "Trust Center Settings" button.
In the new "Trust Center" window, shift to "Protected View" tab. In the right pane, you can find the "Enable Protected View for Outlook attachments" option. Uncheck it.
After completing the above steps, you ought to click a series of "OK" to enable the changes.
Finally you can close MS Word and turn to Outlook to have a try.
In Outlook, select an email with attachments. In Reading Pane, double click the attachment to open it. You will see a prompt, which asks you whether to open or save it. It is much more annoying than Protected View. But the "Always ask before opening this type of file" option is grayed out. You cannot deselect it to disable the asking. So move on to Step 2.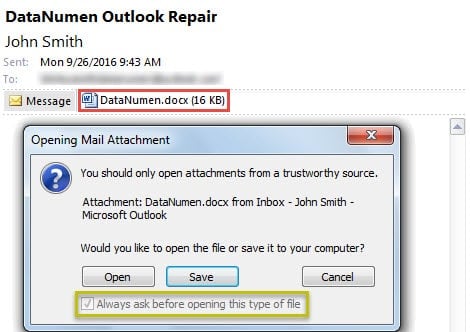 Step 2: Disable "Always ask before opening this type of file"
To begin with, close Outlook and go to "Start Menu".
Then find and locate "Microsoft Outlook" application. Press "Shift" and at the same time right click on it.
After that, from the context menu, you should select "Run as administrator".
Next a dialog box of "User Account Control" will open up, in which you need to click "Yes".
Outlook will start. You should find the email attachment and double click to open it again. In the popup prompt, you will see the option "Always ask before opening this type of file" is not grayed out. Now you can deselect it.
After deselecting the option, you can click "Open" to access the attachment. Protected View must be removed. In addition, from now on, the dialog box of "Opening Mail Attachment" won't pop up any longer when you try to open the attachment in .docx format.
To disable protected view for email attachments in .xlsx and .pptx format, you can use the same method as well.
Never Trust in Unknown Email Attachments Readily
Although no protected view is really much more convenient, you should be more alert about the email attachments. It is known that viruses and malware can be disguised as innocuous attachments. Thus in order to protect your Outlook data, you should never trust in and open unknown email attachments readily. Plus, so as to provide the timely rescue, you should keep an Outlook recovery tool handy, such as DataNumen Outlook Repair, which can get back maximum data in case of severe Outlook corruptions.
Author Introduction:
Shirley Zhang is a data recovery expert in DataNumen, Inc., which is the world leader in data recovery technologies, including sql recovery and outlook repair software products. For more information visit www.datanumen.com