Sometimes, you may want to search for the emails which have the empty subject line in your Outlook. This article will teach you 2 tricks to find them in quick time.
If you want to find the emails with specific words in the subject line, Outlook is very flexible in this respect. You can simply click into the instant search box and click on the "Subject" in "Search" ribbon. Then you can type the specific keywords in the search box, like the following screenshot. This is quite easy.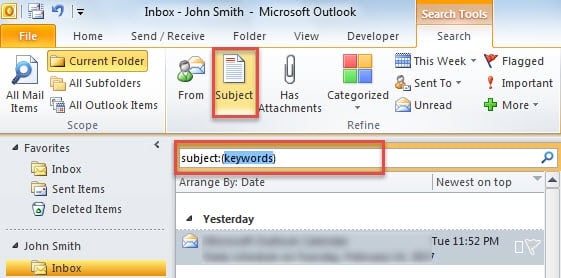 However, if you wish to find the emails with no subjects, how can you achieve it? In response to this, the followings are 2 quick approaches, both of which are very simple. You can choose either.
Method 1: Search for the Emails without a Subject via Instant Search
At the very outset, start Outlook properly.
Then click into the search box above the email list.
Next you ought to type "subject:[]" in the search box.
At once, Outlook will find out the emails without the subjects, shown in the search results.
This method is quick and handy, but to be honest, it cannot make effects in most cases. Hence, if you receive "no results" prompt, you can attempt the Method 2.
Method 2: Search for the Emails without a Subject via Advanced Find
For a start, click into the search box, which will show the "Search" ribbon.
Then in the visible "Search" ribbon, you ought to hit "Search Tools" and select "Advanced Find" from its drop down list.
Subsequently, a new dialog box will pop up. Now in it, you should specify the search criteria.
Firstly, switch to "Advanced" tab.
And then type "subject" in the "Field" box.
Next select "is empty" from the "Condition" drop-down list.
Lastly click "Add to List" button.
After that, you can add the other search criteria as per you actual needs and change the search scope in "Look for" line at will.
Eventually, click "Find Now" button on the right side. Immediately, the emails without subjects will be shown in the following list, like the image below.
Tackle Worrisome Outlook Problems
For those who have used Outlook for decades, they must have been accustomed to coming across Outlook issues in that Outlook is susceptible to error. As normal, if you encounter such issues occasionally, you can recur to the inbuilt repair tool, scanpst.exe. Provided that it fails, then it is very likely that the troubles are quite cumbersome. In this case, a more potent Outlook PST error recovery tool, such as DataNumen Outlook Repair, will be a necessity.
Author Introduction:
Shirley Zhang is a data recovery expert in DataNumen, Inc., which is the world leader in data recovery technologies, including repair damaged SQL Server mdf database and outlook repair software products. For more information visit www.datanumen.com