In this article, we will offer you 2 methods to insert an animated gif image into your Word document.
You may notice that animated gif images are going virus on Internet. Given to the fact that they are more vivid than usual images, how about insert gif images into our Word documents? What a wonderful idea!
Yet, when you insert a gif image into your Word document in a usual way, you find they are as static as common images too. Now you may start wondering: Is it possible to have an animated gif image in Word file?
The answer is positive. And there are two ways to realize the goal. Please read the following text to see more.
Method 1: Insert a PowerPoint Slide
First and foremost, open PowerPoint.
Then delete the "Click to add title" and "Click to add subtitle" text boxes on the slide.
Next click "Insert" tab.
And click "Picture" in "Images" group.
Then choose a gif image in "Insert Picture" window.
Click "Insert" button.  
Now you can notice the image may be rather small in size.
Click these eight handles around the image to enlarge it until the full size of the slide.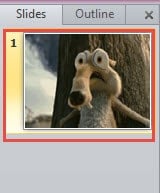 Save the file.
Next open Word.
First click "Insert" tab.
Then click "Object" in "Text" group.
Now in "Object" dialog box, click "Create from file".
And move to click "Browse" button.
In "Browse" window, find the presentation file you just saved.
Then click "Insert" button.
Now go back to "Object" dialog box, and click "OK".
By now, you have the image on your document. Double click the image, and the system will invoke PowerPoint to play the gif picture.
Method 2: Insert a Hyperlink
Firstly, open Word.
Then click "Insert" tab.
Next click "Picture" in "Illustrations" group.
In "Insert Picture" window, first choose a gif picture.
Then click "Insert" button on the right-down side.
Now click to select the image.
Next click "Insert" tab again.
Click "Hyperlink" in "Links" group.
In "Insert Hyperlink" dialog box, find the location of the image in "Look in" box.
Then click "OK".
Now place your cursor at the image and you can see the file location in balloon.
You can take the lead that is to press "Ctrl" and click the image simultaneously to follow the link. Then the system shall invoke its program to play the animated gif image.
However, you should keep in mind when using this method that is to avoid relocate or delete the image. Otherwise, you will fail to play the gif image. For example, you may get the bellowing result: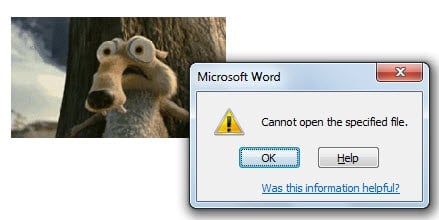 Mind the Word Crash
We rely so much on Word to carry out day to day work. Despite of it providing us with much convenience, you should always mind the consequences that a Word crash can bring. One step is to get a specialized product for doc file recovery.
Author Introduction:
Vera Chen is a data recovery expert in DataNumen, Inc., which is the world leader in data recovery technologies, including Excel damage and pdf repair software products. For more information visit www.datanumen.com