Do you want to view multiple calendar months in Outlook? However, Outlook is programmed with only one month view available in Calendar. If you really need to view several months at the same time, you can use the following 2 workarounds.
In Outlook Calendar, you can change to "Month" view simply in "Arrange" group, shown as the following screenshot. While this view only supports displaying one month in the current window. If you would like to view multiple months at once, you should make some additional efforts. Here are 2 approaches to realize it.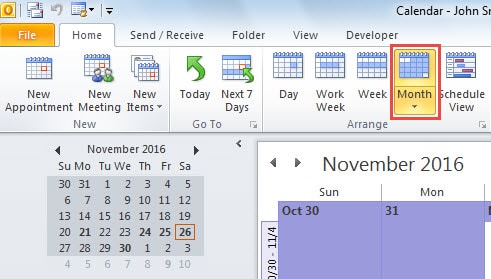 1. View Multiple Calendar Months in To-Do Bar
Actually, you can view months not only in the Calendar pane but also in the To-Do bar, which is located at the right side of Outlook window. So in order to view multiple months, you can adjust the To-Do Bar. By default, it only shows one month. If you wish to view only one more month, put your cursor on the splitting line between reading pane and to-do bar. Then drag the cursor toward left direction. There will be two months showing in To-Do Bar.

But if you hope to show more than two months, follow the steps below:
Firstly right click on To-Do Bar, and select "Options" from the context menu.
Then in the new dialog box, you can change the number of month rows. It is set less than 10, namely a maximum of 9.
After clicking "OK", maximize the To-Do Bar. You will see multiple months in the To-Do Bar. The concrete number depends on the size of Outlook window.
2. View Multiple Calendar Months via "E-mail Calendar" Feature
At the very outset, go to Outlook Calendar.
Then right click on one calendar folder and select "Share" > "E-mail Calendar" from the context menu.
In the new popup dialog box of "Send a Calendar via E-mail", you can specify the date range as per how many months you intend to view. Also, choose a detail options, such as "Limited details".
After that, click "OK" to save the specifications. At once, a calendar will be created in the current message window. It looks like the screenshot below:
You can directly check it in the message window, or save it as a HTML file to your Desktop. Since then, whenever you would like to check, you can directly open the HTML file.
Resolve Outlook Issues Effectively
It is inevitable that you will come across a variety of problems in Outlook, such as sudden "Outlook stop working", "data file cannot be opened" and so on. If you've used Outlook for decades, you may have been familiar with them. The first way to solve them is to use ScanPST to scan the PST file and try to repair PST mail error. But to be honest, this built-in repair tool is not adept at solving serious issues. So if your issues are extreme, such as PST files get corrupted severely, you have to recur to a more experienced tool, like DataNumen Outlook Repair.
Author Introduction:
Shirley Zhang is a data recovery expert in DataNumen, Inc., which is the world leader in data recovery technologies, including repair SQL database and outlook repair software products. For more information visit www.datanumen.com