Blue Screen of Death is a painful error on Windows-based computers. When faced with this error, your computer will fail to boot and work. Also, all your PC data will become inaccessible as well. So this article will look at this issue and offer you 10 effective solutions.
Many Windows users must have ever encountered blue screen of death error. At times, the issue can be easily fixed by system reboot. However, as a matter of fact, in most situations, this issue is too severe to get repaired. Therefore, this error is quite frustrating. It can result from various factors, like software incompatibility, virus or malware attack, human errors, low system drive space and so on. Now, in the followings, we will expose the 10 effective measures to fix it depending on the different causes.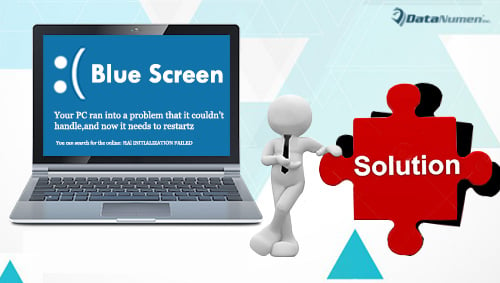 1. Undo recent great changes
Perhaps the Blue Screen of Death occurs just after you install a new program or a new hardware, or update a driver and so on. All of these are recent great changes on your Windows, which may be the primary culprits. Therefore, you can try to fix Blue Screen of Death issue via undoing these. You can use the 2 means, namely booting your PC by Last Known Good Configuration, or using system restore.
2. Check computer hardware
If something wrong occurs to the computer hardware, such as faulty or loosen connection, your PC will suffer Blue Screen of Death as well. Therefore, you could proceed to have a look at your PC hardware. Power off the PC, open the PC case and then check all cables carefully.
3. Boot the computer in safe mode
Faced with Blue Screen of Death error, if you want to access your Windows, you can boot your PC from safe mode. In safe mode, Windows will load the essential drivers only. You can press F8 button during boot and then press arrow keys to select which kind of safe mode that you want to boot Windows from.
4. Kill viruses on the computer
As virus infection is also a cause of Blue Screen of Death, you should try to kill the viruses on your PC too. Firstly, you should reboot your computer from safe mode with networking. After getting access the Windows successfully, launch antivirus software to kill all potential virus or malware threats.
5. Free up more disk space
Provided the drive partition which is used for Windows system tends to run out, not only may you suffer Blue Screen of Death, but also you will encounter data corruption, such as PST corruption. Therefore, if you boot your PC successfully in safe mode, you should delete all the junk files on the system drive.
6. Reset or update BIOS
In some cases, the mistakenly updated or misconfigured BIOS can be the criminal. Therefore, you can firstly try to reset the BIOS to fix Blue Screen of Death. If the error persists, you can continue to update BIOS.
7. Update hardware drivers
Furthermore, the improperly installed driver can cause Blue Screen of Death too. Therefore, you can download and install the latest hardware drivers for your PC. This will definitely fix the issue as long as it is caused by driver problems.
8. Update Windows system
As we all know, Microsoft will regularly release many patches, service packs and other system updates for Windows system. Therefore, you should apply all these available updates right now.
9. Restore hardware settings to default
What's more, if you've manually changed the hardware settings, and if anything incorrect occurs to the settings, you will come across Blue Screen of Death error too. In this case, you can access Device Manager to revert the hardware settings to default.
10. Reinstall Windows
Supposing all the above solutions cannot help you to get rid of the Blue Screen of Death issue, the last resort is to reinstall your Windows operating system. But, in prior to performing system re-installation, you should back up all of your data.
Author Introduction:
Shirley Zhang is a data recovery expert in DataNumen, Inc., which is the world leader in data recovery technologies, including SQL Server recovery and outlook repair software products. For more information visit www.datanumen.com