In this article, we look at how we can use an Access database in MS Office and the steps involved in it like creating an ODBC data source.
There can be situations when people working in a single organization are making use of different operating software. In such a situation, not everyone will be operating on Windows and using only MS applications. Imagine a situation where an user operating on Linux machine, using Open Office needs to Access MS Access files.
The answer to this question is very simple. Open Office allows users to access multiple types of databases, provided they have support for standard interface specifications like the ODBC or the JDBC. MS Access provides you support for ODBC, meaning to use an Access database with Open Office, you will have to create an ODBC data source.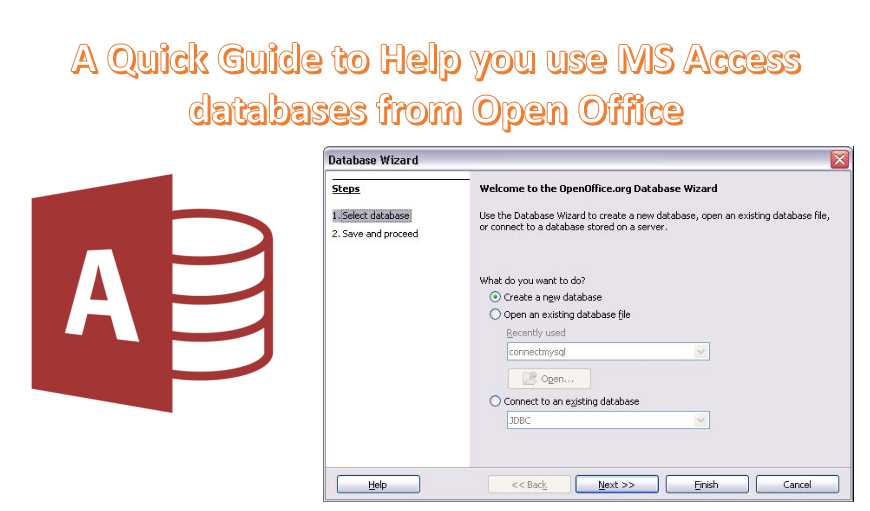 Using ODBC to link MS Access and Open Office
Before you can opt for creating an ODBC data source for using MS Access database on Open Office, you first need to link these two applications. Make sure you undertake the following:
Opt for creating an ODBC data source for all databases that you wish to make use of. This step needs to be done just once.
Opt for creating an ODBC data source inside OpenOffice.org for all databases. This step also needs to be done just once.
Make use of your Access databases in OpenOffice.org
Once this is done, you then need to proceed towards developing an ODBC data source for your Access databases.
Creating ODBC data source for using Access databases in Open Office
Follow these steps for creating ODBC data source in Open Office
In MS Windows click on Start, go to Settings and in the Control Panel and then double click on the icon of ODBC Data Source. This will begin operation in the Data Source Admin.
From the appearing Data Source Admin Window, click on the Add option. This will display the dialogue box for 'Create New Data Source'.
From this dialogue box go on to choose 'Microsoft Access Driver' and then click on the Finish button. This would lead to ODBC Microsoft Setup screen for Access showing up.
In the appearing dialogue box enter the name of the Data Source, along with a description. And then click on the select option to make a selection of the Access database you wish to access using Open Office. Make sure that the file you are selecting is a .dbf file. Once you have made the selection, you can click on OK.
The ODBC data source that you have created will now appear as Administrator.
For closing the administrator, click on OK.
The same procedure will have to be followed for realizing an ODBC data source for all Access databases that you wish to make use of in Open Office.
Understanding the above-mentioned procedure is crucial if you are running on Open Office and wish to use it for accessing an MS Access database. With applications and procedures like these using an application on a platform different from the usually used platforms becomes easier, thus providing users with unhindered connectivity.
An Access files that is transferred across different systems may be vulnerable to data corruption. Keep a mdb recovery tool in your office to negotiate such scenarios without losing any data.
Author Introduction:
Vivian Stevens is a data recovery expert in DataNumen, Inc., which is the world leader in data recovery technologies, including sql fix and excel recovery software products. For more information visit www.datanumen.com