In this article we explore the tricky issue of linking data from one Ms Access Database to another.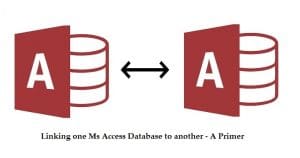 You might have heard about importing or transferring data from one Access Database to another, it is done often, in a lot of scenarios. But moving ahead of the simple copy / paste technique, today we will be discussing about linking one Access database to another. This too is done in a lot of scenarios, like – when data from one table needs to be shared with data in another table, due to the relevance of data in both tables, and lack of will for duplicating a table. Another reason for linking databases might also be that users from multiple workgroups need access to the database. And instead of allowing them access to the database, you choose to link the database with the one they already have access to. Linking of Access databases can come in handy when one of the linked databases ends up with a corrupt accdb file.
Linking databases can work for the benefit of users in multiple occasions. Linking data is better than importing data because it does not involve storing the same data in different locations. A key point to remember while linking in Access databases is that, linking is possible only for tables and not for queries, forms or reports. Once you link tables in databases, a new table called the linked table is created. But before you can create a linked table, you need to prepare for linking tables, which is done by following the given steps.
The first thing you need to do, to be able to link Access tables is locate the source of the database. It can either be MDB, MDE, ACCDB, or ACCDE. You will be required to enter password before linking begins, if these sources are protected by passwords.
After you have located the source and obtained the password, you now have to identify tables you want linked. Make sure you are attempting to link only tables, and not queries, forms or reports. Access only allows for linking tables in databases.
There are a lot of other tips that you need to know before you can begin linking tables in MS Access. These are the most useful and important things you need to keep in mind, if you want to be able to successfully link tables in Access databases.
Following are the steps you should follow for linking databases in Access.
Open the database, go to External Data tab in Import Group and select Access.
The File Name text box will appear, type the source of database or Browse to see the File Open dialog box.
Click on 'Link to the data source by creating a linked table' and press OK.
From the appearing link Tables Dialog box, select the tables you want to be linked. You will be able to cancel your selection by clicking on the selected table again.
Click OK to end. Your Linked tables are now ready.
You can view the tables in Datasheet view, to see how they look. Whether they look ok or not?
Author Introduction:
Vivian Stevens is a data recovery expert in DataNumen, Inc., which is the world leader in data recovery technologies, including repair SQL Server corruption and excel recovery software products. For more information visit www.datanumen.com