What do you look for in a relational database recovery tool? Learn how to select the right tool for restoring your lost MS Access files and get your relational database running again quickly with the tips below.
Data recovery on damaged MS Access databases will require an approach that's specific to relational databases. The process isn't similar to recovering a Word file or spreadsheets. So, even if you have worked on other computer applications before, you will still need to know what to look for in a good MS Access recovery tool. In any case, there are so many applications available in the market today. So, the challenge is to pick the best tool that will increase the chances of recovering your files.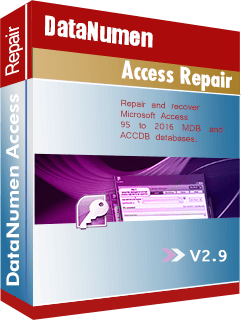 Key Considerations
1. Software Compatibility
The right recovery tool should empower you to recover various versions of MS Access databases running on a wide range of operating systems. For instance, there are more than ten versions of MS Access. These range from Microsoft Access 95 to the cloud-based Office 365 solution.
Similarly, there are various Windows operating systems that support MS Access, from Windows 95 to Windows Server 2019. A good recovery tool should be compatible with these versions of Microsoft Access and Windows operating systems. A universal tool that supports all versions of MS Access and Windows operating systems is convenient and reduces the cost of acquiring multiple recovery tools.
2. Recovery Rate
Although full data recovery is not 100% guaranteed, for obvious reasons such as extreme damage to a storage drive, it is wise to choose a tool with a high success rate in recovering different cases of corrupt MS Access files. For instance, the DataNumen Access Repair tool comes with a 93% success compared to other tools in the market. This makes it one of the best options available.
3. Post Recovery File Process
Once you have recovered the lost files, the recovery tool should give you multiple options for processing the recovered MS Access files. For instance, let's say you are working with an older version of MS Access such as 95/97. The tool should give you the option to output the recovered file in a newer version such as MS Access 2000, and vice versa. This comes in handy especially when merging the recovered files with an older or newer version of an MS Access database.
4. MS Access Objects Recovery
MS Access comes with four main objects namely tables, indexes, relationships and queries. These allow users to enter and manipulate data in a database based on their needs. A good recovery tool should recover the salient features of the objects in the original database such as the structure and relationships. This preserves the original design and functionalities of the database.
5. Efficiency Perks
Always go for tools that make you efficient in your work. For instance, if you have lots of files to recover, then go for a tool that allows batch recovery. This means that you can recover multiple files at once. Other functionalities include a drag and drop feature that allows you quick selection of the files to be recovered as well as a search feature that allows you to find files on the target computer.