Outlook signatures are kept in separate files. It means that your archived PST files cannot include the signatures. In this article, I will tell you where you can quickly access the signature files and how to restore them.
If you have ever attempted to restore PST files via your backups, you might have noticed that you cannot recover previous Outlook signatures. It is because your backups don't comprise your signatures. They are just stored in other files. To back up them, you would be required to find them in the first place.
2 Ways to Locate the Signature Files in Windows File System
One Way to access the signature files is to open the following location. In Windows 7 and higher, you should open the "Users" folder in C: Local Disk and then open the folder in the name of "Username". Next you need to open "AppData" folder, then "Roaming", and later "Microsoft" folder, in which you can find "Signatures" folder certainly.
Another way is much simple. You can locate signature file just through Outlook application. You can follow the steps introduced below.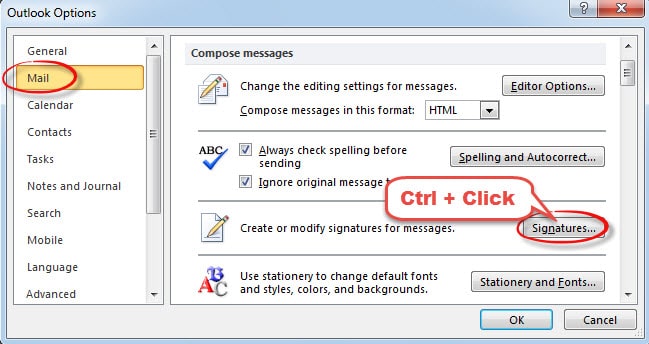 At the very outset, you should go to "File" menu and select "Options".
Then a new window of "Outlook Options" will pop up. In it, you need to switch to "Mail" tab.
Under "Mail" tab, you should locate the "Compose Message" label at first.
Next find the "Signature" button. Press "Ctrl" and meanwhile click the button.
Later another window will show up, in which you can find all signatures.
You should note that every signature exists in 3 formats, namely plain text, HTML as well as Rich Text. If you would like to make a backup of Outlook signatures, you must copy all the files that you find to another backup location.

Recover Your Archived Signatures
To restore the archived signatures, you should copy and paste them to the target signature folder in your computer. They can be available in Outlook once you put them in the correct folder.
Actually if you haven't made any backups of signatures, you can recreate your signatures swiftly. Open one of previous sent messages in your archived PST file. You can absolutely see the former signature. Copy it, and create a new signature, then paste it. This is a quick approach without signature backups.
Apply a Potent Repair Tool if No Backups
Many users have realized the importance of backups. With backups, they can recover PST files in a quick time. Nevertheless, if no backups, users can also resort to a potent repair tool like DataNumen Outlook Repair. It can repair corrupted PST files within seconds.
Author Introduction:
Shirley Zhang is a data recovery expert in DataNumen, Inc., which is the world leader in data recovery technologies, including sql recovery and outlook repair software products. For more information visit www.datanumen.com